Ganesh Acharya Shoots a unique item song with Heena Panchal for the film Nafisa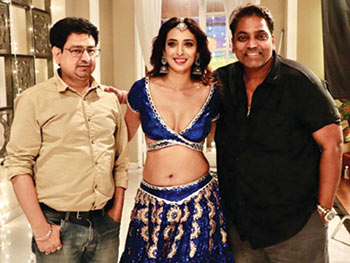 Eminent choreographer Ganesh Acharya recently shot an item number with the famous actor Heena Panchal for the much-discussed film 'Nafisa' directed by Kumar Neeraj. According to the director, this movie is one of his most awaited films of him. The film is based on the Muzaffarpur girls' scandal case. This true incident-based movie is also written by Kumar Neeraj.
The choreography is one of the most unique ones and the viewers will get to see the dance of Heena Panchal in her usual style. The music director of the film is Ratan Rawani who has composed several melodious songs for the film.
Kumar Neeraj has completed the first round of shooting for 'Nafisa' at Noida, Uttar Pradesh. The second round is going to begin in Mumbai. The shooting got delayed due to Lockdowns and some personal problems of the director.
'Nafisa' is based on the sexual scandal at Muzaffarpur Girls' Shelter Home. The incident created a huge uproar and changed the political scenario of Bihar. It is still regarded as one of the most shameful scandals of the state. Kumar Neeraj, famous for his protests and telling the truth, claims to uncover the hidden truth through his film. People are also eagerly waiting for the release of this film.
The film is produced by Vaishali Dev Bina Shah, Munni Singh and Khushboo Singh. The new item song will surely add a new dimension to the film as it has been done under the direction of the ace choreographer Ganesh Acharya and performed by the famous Heena Panchal.