Garba Going Global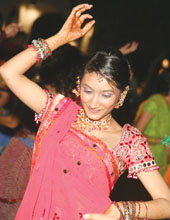 Famous garba song writer Avinash Vyas, famous garba singer Diwaliben Bhil, and other garba-raas lovers will have mixed feelings if they see young kids in the United States playing garba. Most of them will be pleased because these kids are keeping the flame of their age-old passion going. Some, who want to keep the originality at its core, will be stunned to see the improvisation.
I, for one, am very much pleased that these kids, some of whom have never been to India, are taking such a keen interest in maintaining the religious and cultural link with India and their Indian heritage.
What is Garba-Raas?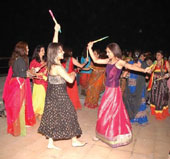 Garba is a traditional form of Indian dance that originated in the state of Gujarat, India. Even though the garba dance follows some traditional rhythm called teen tali (3 beats) or four talis (four beats), it allows for improvisation, and more freedom of motion than any of the other classical types of Indian dance. Garba is generally performed in a circular pattern, with women and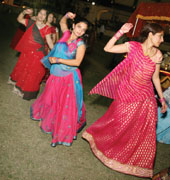 now, boys and men, dancing around Devi, clapping rhythmically. With every step, they gracefully bend sideways, the arms coming together in sweeping gestures, up and down, left and right, each movement ending in a clap. The word garba comes from the Sanskrit term garb deep, which roughly translated, means the lamp inside the clay pot. The clay pot is usually white and has holes on its side through which the inner lamp reflects its light. Here the lamp symbolizes God and the clay pot symbolizes the universe.
Garba-Raas can
be performed at any celebration whether it is wedding, engagement, or religious.Traditionally these dances are performed during the Navratri festival. The word Navratri where Nava means nine and Ratri means nights in Sanskrit makes a celebration of nine nights and nine forms of Shakti – a metaphor used for goddess Durga are worshipped. This festival holds special significance for Gujaratis and Bengalis and is celebrated with full of music, song, movement, lights, color, and reverence.
A more popular dance among most men is raas, a dance that involves the use of wooden sticks (also known as dandia). In a Hindu scripture Krishna performed raas with Radha and the Gopis. For Radha and the Gopis, it is true affection of love.
Garba-Raas Competition
In the past few years, garba-raas has become extremely popular throughout the United States, with over 50 college teams competing in various competitions yearly.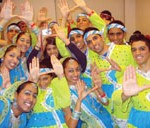 Last March, University of Miami arranged such a competition. Amar Mandalia, Co- chairmen of the program said. " We received such a tremendous response, not only from college students from all over USA, but also from local community members. We have decided to keep this competition our annual event and we will keep it every year around March. In 2009, it will be on March 9 the weekend."
Another national organization, The Federation of Gujarati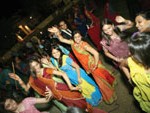 Organizations in North America (FOGANA) has helped tremendously in igniting interest in teenage kids all over the USA.
Watching these kids performing on a stage in Atlanta, Kanubhai Patel, resident of Ahmedabad who is visiting his daughter said, " My hats off to these kids. I cannot believe that these kids are born and brought up in USA. They are performing better than some of the kids in Ahmedabad."
Modern Garba-Raas
One thing I have learned watching young kids playing garba in the USA, is that if they take interest in any Indian activities they will go all out and make it very interesting. This theory applies to garba-raas also. Young Indians all over the world have taken garba-raas to the next level by introducing Disco Garba and Disco Dandiya. Sudhir Mehta, a music teacher in Atlanta, noticed this in his students and told us "Do not forget Garba- Raas is one kind of folk dance and it is not a rigid form of art, the style and music of this age-old art has evolved with the times and with the surrounding. And it does not matter whether this surrounding is a small village in Saurashtra or big city like Atlanta."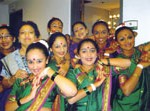 Daksha Vakharia, resident of Weston Florida has choreographed for the Tampa competition for the last five years and has won several prizes said, "I am really excited that these young kids are taking interest in our religion and our culture and at the same time they are having fun too." And it seems like Daksha's interest and excitement runs into her daughter Ami, medical student at UM. Ami is taking a very keen interest not only in participating in the Garba-Raas competition, but also in choreographing the dance.
Love is in the air 
Sagar and Sarita Patel feel an entirely different reason why garba has become popular at the international level. Five years ago they met in Atlanta Hindu Temple when they were Sarag Patel and Sarita Gupta. That night not only did their dandiyas click but their love for each other clicked also. Garba dances and competitions have become meeting places for the younger generation. The parents of Sagar and Sarita are happy that their kids found each other. Ram Prasad Gupta, financial consultant in Atlanta said, "I always feel comfortable sending my kids to Indian programs like raas, garba or Holi picnics arranged by the temple or Indian association." He also added, "If they go to Indian programs they are going to get exposure to Indian culture and they are going to meet like-minded Indian kids."
There are several reasons why garba has become globally popular and in that list of reasons, Bollywood comes to the top of the list. It started with Salman Khan and Aishwarya playing dandia raas in Hum Dil De Chuke Sanam. and the trend continued in Bride and Prejudice, Aa Aub Laut Chale, and many more.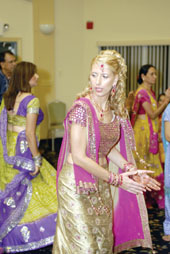 Aarti Verma 12, born and brought up in Florida loves rass and garba. She is always looking for any chance she gets to play garba. Brought up in a non-Gujarati family has not stopped her love toward this globally popular dance. She, along with her friends, has been participating in the Tampa competition for the last five years, and they have won the prize every year.
Having asked a few garba lovers at the Tampa festival about what changes they have seen in garba-raas in the USA, Ravi Gandhi of Tampa said "Traditionally, in old times only women took part in garba, now Gujarati Samaj offices all over USA are making a genuine effort to get everybody involved, from 5 year old boys to 65 year old grandpas. This is one sure way to get our Indian heritage pass to our kids and not by lecturing them."