Generation Z: Building Tomorrow's Success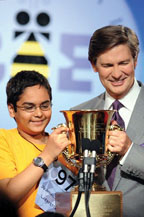 Spelling Bee 2008
Sameer Mishra, an eighth grader at West Lafayette Junior/Senior High School, won the 2008 Scripps National Spelling Bee beating 288 children in the 8 to 15 age group. Interestingly, another Indian, Siddharth Chand of Michigan, took second place thereby reinforcing the talent and prowess of the Indian American children in the States.
The Bee is the nation's largest and longest-running educational promotion, administered on a not-for-profit basis, by the E.W. Scripps Company and its associate sponsors. The event started back in 1925 with only nine contestants, and its sole purpose was to help students improve their spelling, increase their vocabularies, learn concepts, and develop correct English usage to help them throughout life. Of the 83 champions to date (including three joint champions), 43 have been girls and 40 have been boys. The competition has acquired such a high profile in recent years that it has inspired movies and Broadway plays. In addition, ESPN has been broadcasting it live for the past several years. Starting last year, ABC began broadcasting the final rounds during prime time.
The event, except for the round one test of the preliminaries, is an oral competition conducted in rounds on elimination basis until only one speller remains. The word is pronounced for the spellers who may question the judges about a word's pronunciation, definition, part of speech, use in a sentence, and language of origin.
For young Sameer, it was sweet success after three long years of effort. Inspired by his sister and "spelling coach" Shruti, also a three-year competitor in the Scripps National Spelling Bee, Sameer started his journey at the Bee in 2005. In previous competitions, he occupied the 98th, 14th, and 16th places during 2005-2007. A crowd favorite throughout the tournament, Sameer is a gamer who loves playing computer and video games as well as board games. He is an avid reader, but also has a passion for the violin, which he has played for four years in his school orchestra.
Sameer, who aspires to be a neurosurgeon when he grows up, won the championship by correctly spelling the word "guerdon." With this, he took home the trophy, an engraved cup from Scripps along with a cash prize of $30,000, a $2,500 U.S. Savings Bond, a complete reference library from Merriam-Webster, a $5,000 cash prize from Sigma Psi Epsilon Educational Foundation, and reference materials valued at more than $3,800 from Enclycopedia Britannica.
The runner-up, Siddharth Chand, who was making his debut, went head-to-head with Mishra until the 14th rounds when he misspelled the word "prosopopoeia." A 7th grader from Bloomfield Hills, Michigan, Siddharth loves his studies – especially math and science. He loves to play chess, tennis, and soccer, and he is an avid stamp collector. Coached mainly by his mother, he took home $12,500 in cash in addition to several other prizes.
Apart from Mishra and Chand, Kavya Shivashankar of Olathe, Kansas made it to the final dozen. One of the favorites to win, Shivashankar was eliminated in the 11th round. Indian Americans have been quite impressive in their performances at the Bee. Three years ago, Indian American children, in their best year ever, claimed the top four places at the event. Anurag Kashyap. Aliya Deri, Samir Patel, and Rajiv Tarigopula finished in the top four places in the 2005 Bee.
Apart from Mishra and Chand, Kavya Shivashankar of Olathe, Kansas made it to the final dozen. One of the favorites to win, Shivashankar was eliminated in the 11th round. Indian Americans have been quite impressive in their performances at the Bee. Three years ago, Indian American children, in their best year ever, claimed the top four places at the event. Anurag Kashyap. Aliya Deri, Samir Patel, and Rajiv Tarigopula finished in the top four places in the 2005 Bee.
Intel Science And Engineering Award Goes To Indian American Student
The Intel Foundation announced top winners of the world's largest pre-college science fair, the Intel International Science and Engineering Fair presented by Agilent Technologies. Natalie Saranga Omattage of Cleveland, Miss., Sana Raoof of Muttontown, New York, and Yi-Han Su of Chinese Taipei were selected from more than 1,550 young scientists from 51 countries, regions and territories for their commitment to innovation and science.
Indian American Sana Raoof's research provided new insight into how a better understanding of mathematical knot theory could help resolve classic biochemical problems. Specifically, her work focused on the Alexander-Conway polynomial invariant for chord diagrams to help prove how to classify molecules on a structural basis.
In addition to the three $50,000 Intel Foundation Young Scientist Award winners, more than 500 Intel International Science and Engineering Fair participants received scholarships and prizes for their groundbreaking work. Intel awards included 18 "Best of Category" winners who each received a $5,000 Intel scholarship and a new laptop featuring the Intel® Core™2 Duo processor.
Five Indian American Students Selected As Presidential Scholars
Five Indian Americans are among 139 outstanding high school seniors selected as the 2008 prestigious Presidential Scholars for demonstrating academic achievement, artistic excellence, leadership, and contribution to school and community. They will be honored in Washington, DC, from June 23 to 27.
Announcing the awards, U.S. Secretary of Education Margaret Spellings said the scholars represent the great gift "we have in our nation's youth. Their academic achievement and their spirit of leadership and service will ensure their success in the 21st century knowledge economy."
The 139 Presidential Scholars include one young man and one young woman from each state, the District of Columbia, and Puerto Rico, and from U.S. families living abroad, as well as 15 chosen at-large and 20 Presidential Scholars in the Arts. A 29-member Commission on Presidential Scholars appointed by President George W Bush selected the scholars based on their academic success, artistic excellence, essays, school evaluations and transcripts, as well as evidence of community service, leadership, and demonstrated commitment to high ideals.
This year's Indian American scholars are as follows: Ravi N. Shankar, Trinity Preparatory School, Winter Park, Florida; Pranoti Hiremath, Ishna A. Sharma, Roswell High School, Roswell, New Mexico; Mythili K. Iyer, Lawrenceville High School, Kendal Park, New Jersey; Ruchir F. Shah, Barrington High School. Barrington, Rhode Island; and Anisha Gulabani, Eastlake High School, Sammamish, Washington.
11-Year-Old Wins 2008 National Geographic Bee Contest

Eleven-year-old Akshay Rajagopal won the 2008 National Geographic Bee contest over a total of ten contestants who came from across the country. Students from the fifth to eighth grades and age ranging from 10 to 14 years competed in the contest. The Bee contest was held in Washington D.C. and was organized by the National Geographic Society. Nearly five million students take part in the National Geographic Bee contest each year.
Akshay, a sixth grader, took home $25,000 in college scholarship and a lifetime membership of the National Geographic. He attends Lux Middle School in Lincoln, Nebraska. The final question which cinched Akshay's victory was:
The urban area of Cochabamba has been in the news in recent years due to protests over the privatization of the municipality water supply and regional autonomy issues. Cochabamba is the third largest conurbation in what country? Answer: Bolivia.
Akshay, who likes science and math and whose hobbies include collecting coins, is considering a career in cartographer, but he has enough time to think about that. For now, he enjoys studying the globe.
He said, "I get to learn about the world and how it works,
which is cool." This was the 20th year for this contest, which is moderated by "Jeopardy" host, Alex Trebek.
Youth Conference in Georgia
Great Indian scriptures and epics with their tales of sacrifice, courage, and wisdom were the theme of this year's BAPS youth conference held at the Meadowcreek High School in Norcross, Georgia, from June 12-15, 2008.
With the aid of workshops, presentations, and group discussions, the message and significance of ancient epics such as the Ramayana and Mahabharat were brought to a young audience ranging from the early teens to the early twenties. Over 200 participants from around the southeast took part in this 3 day conference.
In addition to the epics, the conference also had sessions on the Vedas, and BAPS scriptures such as the Vachanamrut and the Yogi Gita.
"This event was an excellent opportunity for all participants to learn the richness and variety of Hindu Indian scriptures," said Jignesh Patel, one of the conference organizers. "For many this was their first introduction to these timeless Satshastras (Indian Scriptures)"
"I really enjoyed the content that was presented because it gave me the opportunity to learn the basics about revered Hindu scriptures and epics such as the Mahabharat, Vedas, and the Bhagwad Gita," said Nisha Dullabh, a sophomore at the University of Georgia. Patel continued, "It would have been difficult for me to learn about this on my own, so I really value my experience."
The event also presented sessions on the Vachanamrut, the Holy Scripture of the Swaminarayan Sampraday. "It is a historical collection of 262 spiritual discourses delivered by Bhagwan Swaminarayan and provides practical guidance on enriching one's faith in God, establishing communion with a true Guru, battling depression, controlling anger and eradicating ego and jealousy", said Mihir Patel, one of the youth leader from the BAPS Mandir.
The 3 day event was planned and executed by the youth wing and sadhus of BAPS. This project was conceived over weeks, and many hours were spent on research and exploring the best presentation methods for a young audience.
This conference clearly left a lasting impact on many including Sunny Patel from Jacksonville, Florida, who stated, "Coming into the session there was very little knowledge that I had regarding the Ramayan … The relations made to the real world had a lot of meaning."