Get to Know: Jacob Rajan, Actor and Playwright
Author by Rina Shah The Arpan Group
On March 28-29, 2014, the Kravis Center for the Performing Arts (West Palm Beach, Florida) will host performances of Guru of Chai, a one-man play written and acted by Jacob Rajan. Recently, we had the chance to connect with and learn more about Rajan, an accomplished and award-winning actor and playwright.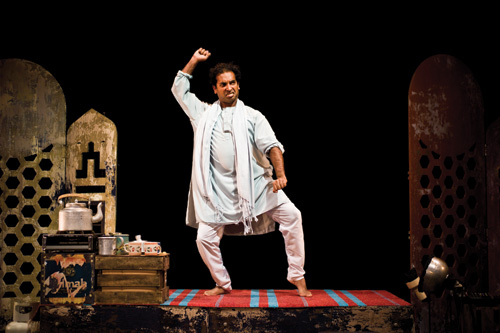 Please tell us about your background.
I was born in Malaysia and emigrated to New Zealand in 1970 at the age of four. Both my parents were born in Kerala, India. I have a Bachelor of Science in Microbiology, a Primary School Teaching Diploma, and a Diploma in Professional Acting from Toi Whakaari: The New Zealand Drama School.
You grew up in New Zealand. How has that influenced your path in life and career?
New Zealand is a stunningly beautiful country at the bottom of the Pacific Ocean. As a young immigrant nation, we've lost a lot of traditions from the old world, but by the same token we are not bound by them. It gives us a sense of anything being possible. I was the first Indian graduate from the New Zealand Drama School so there were no templates for what I should do. I had a freedom to find my voice, and I found an audience eager to listen.
Tell us a little bit about your career and how you came to be where you are today.
I come from a long line of doctors and there was a gentle expectation that I, and my two older brothers, follow in my father's footsteps and go into medicine. None of us fulfilled that expectation although, in my defense, most of the television roles to date have had me cast as a doctor! My science degree and teaching diploma are a function of having Indian immigrant parents. They were determined that I do something "useful," and I dutifully went through the motions of a University education, but my internal compass was pointing me in a different direction. In between lectures, I was sneaking off to Film Club and watching lots of student theatre – no inkling of performing yet as I was painfully shy. It was at Teachers' College that I gravitated towards Theatre in Education and started performing plays for children. My tutor encouraged me to audition for the New Zealand Drama School. I auditioned and got in. I created my first original piece of theatre as an exercise while at Drama School. It was well received and my tutors encouraged me to turn it into a full-length play. I took their advice. The play was called "Krishnan's Dairy" and it led to my collaboration with my director, Justin Lewis, and our formation of the Indian Ink Theatre Company in 1996. We've been creating original theatre ever since.
What was the inspiration behind Guru of Chai?
An Indian fairy story called "Punchkin." We took the original story apart and reassembled it in modern India. The result is a romantic thriller that's told by a delightfully unreliable narrator, the Guru. He'll make you laugh and break you heart at the same time.
To an amateur, the prospect of a one-man play can seem daunting. How does a one-man play compare to being in a production with a full cast?
They have different demands. I love the challenge of the one-man form. In Guru of Chai, I play 17 different characters in a story that spans 15 years. To take the audience on that ride and to feel the bubble of the story envelope them is magical.
What role does music play in your productions, specifically Guru of Chai?
Live music is intrinsic to all our work. We are blessed with the presence and talent of long term collaborator, David Ward, in Guru of Chai. His brief was to create the chaos and vibrancy of modern India in a live sound track as well as four original songs. His efforts won him "Composer of the Year" for this production.
You have had the opportunity to perform around the world. How do audiences in different countries compare?
Our plays, although often with an Indian context, have universal themes which have allowed a them to reach audiences as far afield as Germany, Singapore, U.K, Australia and, of course, the U.S.A. The laughs come in different places and often themes resonate differently across cultures but that, of course, is what keeps the work fresh and keeps me engaged as a performer.
Who has played a crucial role in influencing the events of your life? How so
My mum. She's the life force. Gave me my love of good food, good stories and solid values. Critically she allowed me to pursue a career in the arts and has proudly kept my clippings since.
Who do you consider to be a mentor and why?
John Bolton. An extraordinary theatre maker and teacher who introduced me to mask before I even auditioned for Drama School. It was a pivotal moment for me when I felt the instant transformation of the mask. Justin Lewis, my director and producer, is a graduate of the John Bolton Theatre School. We both continue to explore the world that John opened up to us.
Success means different things to different people? What does it mean to you and how would you define it?
Success to me is balance. To be reaching for heaven while having your feet firmly on the ground.
What do you think is the secret behind your success?
Two things: Justin Lewis, my director and producer. He collaborates on an artistic level but also has a business head that sets goals, balances books, galvanizes the creative team and makes the art happen. And my wife, Philippa, who does all the above at home while working and looking after 3 children and a dog with a husband who never seems to be at home.
An American colleague once asked me an interesting question – "Why are Indians at the forefront of a variety of fields?" What to you think?
I think that's best seen in the response when I perform for my Indian community. After standing ovations and multiple curtain calls, I'll be mingling with audience afterwards. An Indian man will always come up to me and say: "That was quite good. What do you really do?" We set the bar very high!
What has been the toughest challenge you have faced during your career?
It's a challenge I still face today: balancing the needs of my career with the needs of my family. The demands of being an artist and the demands of being a father and husband are a precarious balancing act.
What drives you? What really pushes you to succeed and reach greater heights?
I'm driven by a desire to connect to something bigger that myself. Within the context of the theatre I'm striving for performances where I am a conduit through which the audience experiences an uplift, an awakening, a nourishment of the soul and, of course, some belly laughs.
What words of wisdom do you have for youngsters in the Indian community who aspire to careers in theatre and as playwrights?
Part of my Indian DNA is screaming: "Do medicine!" But seriously, if you're wanting to make a career in theatre make sure it's not for fame or fortune. Remember: Film will make you famous, T.V. will make you rich, Theatre will make you good.
About the Author
Rina Shah is the CEO and founder of The Arpan Group, a boutique public relations firm that specializes in developing campaigns to capture untouched ethnic markets. From press releases and media kits to marketing materials and by-line articles, The Arpan Group customizes solutions based specifically on the client's needs. For more information about The Arpan Group, visit www.thearpangroup.com or call (703) 651-6670.