Immigration Q & A February 2014
My parents have their green card for 5 years now. They travel to India every year for 6 months, but because of my mother's health, she stayed in India for the entire year last year. Can she still apply for citizenship?
Not now. It seems that your mother spent most of the last five years outside the U.S. In order to be eligible for U.S. citizenship, you have to physically be present in the United States more than anywhere else in the five years before you apply. Based on what you told me, it seems that in the last five years, your mother has spent at least three and a half years in India. If she remains in the US and does not travel to India or anywhere else, she may be eligible to apply for US Citizenship in about two and a half years. However, before she applies, check with an attorney, to make sure she still qualifies. You will need to calculate exactly how many days she was abroad.
I have a business in the U.S. I would like to bring some people from my country to work for me. How can I do this?
If you want to bring a specialist, you may consider an H1-B visa petition. To get an H1-B visa, your prospective employee must have a job offer from your company offering a salary at the prevailing or actual wage rate for persons in that occupation and geographic location (whichever is higher). He or she must also have the minimum of a bachelor's degree (which should be evaluated as equivalent to a degree from an accredited college or university in the U.S.), or equivalent in the specialty occupation. The job offered must be a specialty occupation, requiring a bachelor's degree or equivalent in the field of specialty.
The employer must file the necessary petition. Once the employer's petition is approved, the employee must go the US consulate in his home country and have the H1-B visa stamped into his passport. Spouses and children under 21 years old will get the H4 visa, that will allow them to live and study in the U.S, but not work.
There is only a limited number of H1-Bs that can be issued each fiscal year (beginning October 1), usually in three-year increments, with a maximum duration of six years. This period can be extended under certain circumstances. Some types of employers are not subject to the annual quota. Some examples of positions considered professional in this category are: accountants, computer programmers, market research analysts, elementary school teachers, journalists, researchers, and scientists.
If you want to bring in a worker from Canada, in addition to the H-1B and L-1 visas, Canadian citizens may obtain TN visas. If the profession is listed on the NAFTA (North American Free Trade Agreement) list, and the worker has the required educational credentials for the profession, a U.S. employer may ask the Department of Homeland Security to admit the workers in TN status to be employed by the US employer. The process does not require a petition to be filed with USCIS, and is relatively fast. The professions list features professions such as accountant, architect, computer systems analyst, engineer, management consultant, pharmacist, and many others.
I came to Canada from Pakistan. I lived in Canada for 15years, but never became a Canadian citizen. I moved to the Unites States 7 years ago. I am now married to aUS citizen and would like to apply for my green card. Can I do it here or do I have to go to Canada?
The answer depends on the exact way in which you entered the United States. If you are not a citizen of Canada, you would have generally needed a visa to enter the U.S. If you entered with a visa, you would have a stamp in your passport showing entry and a form I-94. If you did not get your passport stamped, it may still be possible for you to adjust status in the U.S., but the situation gets complicated and the result may depend on the smallest of facts. Talk to an immigration attorney about the exact circumstance of your entry to the U.S. to determine if you are eligible to get you green card in the United States.
Can I get a copy of my file from immigration?
Yes, but it may take a long time. You have to figure out which agency has the file. Years ago, all records were stored with INS (Immigration and Naturalization Service), unless they were Immigration Court records. In 2001, INS was divided into three different agencies: ICE, CBP and USCIS. Requesting your file from ICE or CBP may take a couple of months, but USCIS takes at least a year. Of course, if you had a case in Immigration Court, you have to request your file from EOIR (Executive Office for Immigration Review). That takes 2 to 6 months, depending on the case. The other important thing to remember is that if you want a copy of a family member's petition for you, you have to have that family member sign the paperwork, because family petitions are considered the records of the petitioner, not the beneficiary.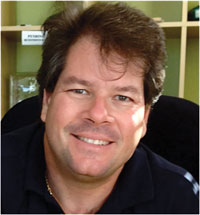 The advice in this column may not apply to your specific situation, even if it seems similar in nature. The only way to obtain legal advice is by speaking with a qualified attorney and reviewing your specific circumstances. If you have any questions, please call me at (954) 522-4115.
Edward Boreth is an immigration attorney who has practiced law for 18 years. He is a partner at Shapovalov & Boreth and a director of the Citizenship Clinic. He is also an avid cricket fan.