Get to Know: Sanjay Chandran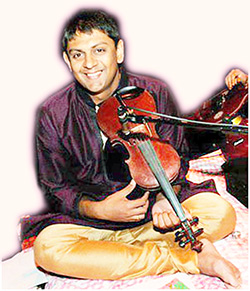 It was my pleasure to interview Sanjay Chandran, who is modest, soft spoken, and exceptionally talented in music as well as in his professional career.  He is among eleven young alumni who received the Penn State Alumni Association's Alumni Achievement Award in 2006. Chandran is currently the chief executive Allianz Medical, Inc. He is also currently serving as a member of the Board of Directors at International Hindu University.
Mr. Chandran is the inventor or co-inventor of several patented technology, including patents for unique fabrication methods and designs for ultrasonic transducers used in medical imaging. Sanjay regularly conducts violin and Indian classical music classes in Boca Raton, Florida. One of his best students is his daughter Sanjana.
In 2017, he received the Award of Excellence from Desh-Videsh Media Group. Sanjay has recently established Florida Fine Arts, a non-profit 501(c)(3) organization, to promote fine arts such as music and dance in our community and to use fine arts as a medium to appeal to and involve the younger generation on a myriad of important issues.
Raj Shah, Managing Editor, Desh-Videsh
Please tell us about your background. 
I was born and raised in Mumbai, India. As far as academics go, I received my B.Tech degree from IIT Bombay and M.S. in Engineering from Penn State University.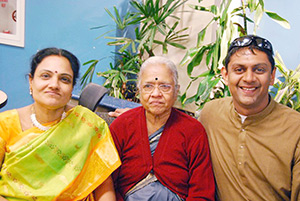 Tell us more about your journey and how you came to be where you are today.
I learned Indian Classical Music (both Carnatic and Hindustani styles) on the violin for 18 years in Mumbai. From 1985 to 1995, I regularly performed in concerts all over India both as a soloist and accompanist on the violin. I came to the US in 1995 to attend Penn State University. At Penn State, I was exposed to many other music genres such as Jazz.
I particularly developed a liking for Jazz because it offered a lot of scope for creative composition and improvisation just like Indian Classical Music. I then started creating my own music compositions combining Indian Classical Music with Jazz, African, Irish, Middle Eastern and other world music genres. This gave me the opportunity to collaborate and perform with world class musicians who were very skilled in their respective genres.
We performed together for many shows in both the West and East coasts of the US, many of which raised funds for charitable causes. Jazz Yatra, held in Broward County, FL, in both 2007 and 2008 was a perfect example of such a show, and it raised funds for Sahara, a charitable organization dedicated to support women who are victims of abuse and domestic violence.
At the same time, my tryst with pure Indian classical music continued, and I performed concerts all over South Florida at venues such as The Shiva Vishnu Temple of South Florida, Florida Atlantic University, etc. as a soloist, accompanist as well as Jugalbandhi (duet of Hindustani and Carnatic music) artist. It is very important for me to teach, train and groom the next generation of musicians and artists. To this end, I teach violin to 15 students, both locally as well as through Skype.
It is very important that these young talents living in North America get ample opportunities to collaborate with other musicians early on and learn to harness the power of digital technologies in making, performing and promoting music to the whole world. That is the mission of Florida Fine Arts, a non-profit 501c3 organization I recently started with a group of like-minded individuals.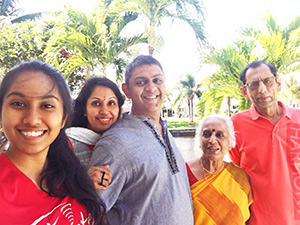 Who is your Guru (teacher) now and when you started?
My Gurus for Carnatic music were Smt. T.R. Balamani (Shankar Mahadevan is probably her most famous student) and Shri. K. Shivakumar. I started learning Carnatic music on the violin in 1978 at the age of 5. I learned Hindustani music from Shri T.K. Patnaik from 1991 to 1995.
How long was your training?
My formal training spanned 18 years. However, in any creative art form such as music, you learn practically every day listening to different artists and different kinds of music, performing and collaborating with other musicians etc. You also learn from your own students!
When was your first public performance? 
I began giving public performances at the age of 8, but they were short performances that lasted less than an hour. I gave my first full-fledged solo violin concert (that was almost 3 hours long) at the age of 12 for Music Triangle in Mumbai. I had both Mridangam and Ghatam accompaniments. After a somewhat nervous start, we really gelled as a group and the quality of music kept getting better as the concert progressed. Even after performing for almost 3 hours, I did not feel even an ounce of fatigue. It was such an exhilarating experience that I couldn't wait to perform again and even today, I love performing and entertaining audiences.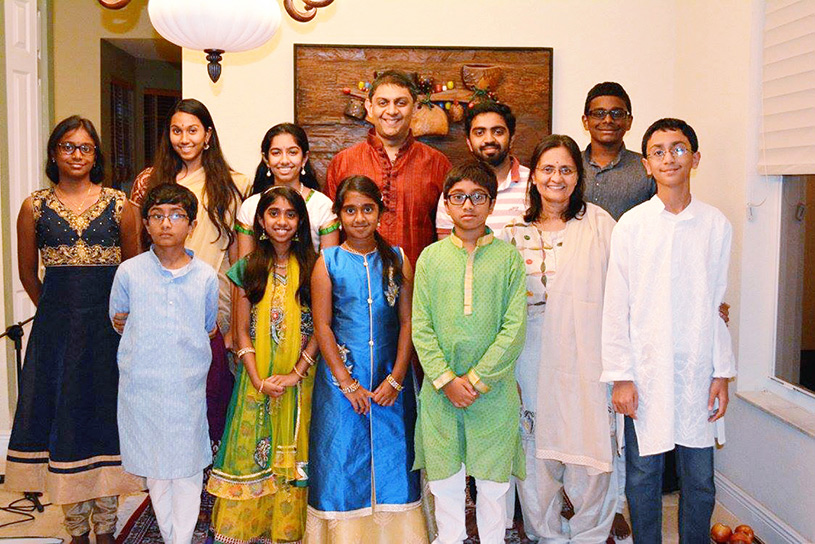 How many public performances you have done so far?
I have not kept count, but I would say I have given over 500 public performances.
Who do you consider to be a mentor and why?
Many esteemed musicians and scholars have influenced my journey at different points of time, but my mother has had the most profound impact on my music. She inculcated in me the passion for music and that, to me, is the most important ingredient. Knowledge, skills, experience, all come afterward.
What advice do you have for young Indian Americans who wish to pursue a career in music or the performing arts?
I would tell every young and budding musician/artist to "make sure you are passionate about the art form you pursue and with that will come success and most importantly, satisfaction."
Success means different things to different people?  What does it mean to you and how would you define it?
The level of satisfaction you get when you do something is my most important yardstick of success. Of course, if you are performing in front of an audience, the same applies to the audience. If they leave the venue happy and satisfied yet yearning for more, then your efforts have been successful. Sometimes after a long day at work, I pick up the violin at 10 or 11 pm at night and the music that comes out for the next hour or so cannot be described using words. That experience and satisfaction trumps any number of awards or any amount of money I can make performing concerts or for that matter any accomplishment at work. 
What do you think is the secret behind your success?
The passion that I have for everything I do.
An American colleague once asked me an interesting question: "Why are Indians in the US at the forefront of a variety of fields?"  What do you think?
I think it is the democratic values that we have grown up with. It helps us be more open minded and accepting of various ideas even when they conflict with yours.
Who has played a crucial role in influencing the events of your life?  How so?
Since birth, my parents (especially my mother) have had a major influence. My mother taught me what it is to have passion for what you do. My father taught me discipline and hard work that it takes to get somewhere. Their influence has understandably waned because we now live thousands of miles from each other. But my wife has now taken over! She has pushed me to explore different things whether it be the arts, the food I eat, the clothes I wear…..the list can go on and on! Because of that, my life experiences have become very diverse and it has helped me in myriad ways.
Favorite Quote:
"Genius is one percent inspiration and ninety-nine percent perspiration. You cannot get anywhere without hard work." This quote is repeated to the point that it has become a cliché. Yet there is nothing closer to the truth than this quote.
Favorite Book:
This is your brain on music: the science of a human obsession, by Daniel J. Levitin. This book is the ultimate union of art and science.
Favorite Indian Movie:
Bajirao Mastani – I could watch this movie a thousand times just for the music.
Favorite Non-Indian Movie:  
Top Gun – love the electrifying aerial scenes of action.
most famous
Raj Shah, Managing Editor, Desh-Videsh
medical imaging
Bajirao Mastani
Hindustani music
Shiva Vishnu Temple
K. Shivakumar
democratic values
satisfaction trumps
own music compositions
Their influence
classical music classes
Penn State Alumni Association
entertaining audiences
very diverse
American colleague
public performances
Florida Fine Arts
Alumni Achievement Award
Genius
IIT Bombay
important issues
hard work
Florida Atlantic University
classical music
young alumni
 somewhat nervous
Go Mobile Health
Favorite Indian Movie
Indian Classical Music
many shows
Indian Movie
solo violin concert
Skype
Americans
US
Florida
Mr. Chandran
Daniel J. Levitin
minded individuals
other world music genres
Award
other musicians
perfect example
creative art form
respective genres
next generation
Gurus
Success
Sanjana
ample opportunities
different points
art form
interesting question
most important
charitable causes
M.S.
Ghatam accompaniments
myriad ways
most profound
long day
other music genres
Sahara, East coasts
human obsession
India
Hindustani styles
percent perspiration
Sanjay
Jazz
North America
ultimate union
very important
percent inspiration
major influence
Engineering
Carnatic
Music Triangle
executive officer
Indians, short performances
digital technologies
formal training
fine arts
Mridangam
Excellence
exceptionally talented
Chandran
Eastern
Broward County
different people
Boca Raton
life experiences
Favorite Non
Raj Shah
crucial role
What advice
very skilled
Editor
charitable organization
various ideas
younger generation
domestic violence
different kinds, Directors
Favorite Book
Videsh Media Group
world class, whole world
Sanjay Chandran
Board, Favorite Quote
more open
own students
public performance
Mumbai, Hindustani
T.R. Balamani
Top Gun
Penn State University
Penn State
professional career
unique fabrication methods
aerial scenes
different things
different artists
best students
same time
next hour
B.Tech degree
International Hindu University
South Florida
young talents
Shri T.K. Patnaik
Shri
Shankar Mahadevan
How many
ultrasonic transducers
Jugalbandhi
Carnatic music
exhilarating experience
creative composition