Get to Know: Sudhir Limye, Percussionist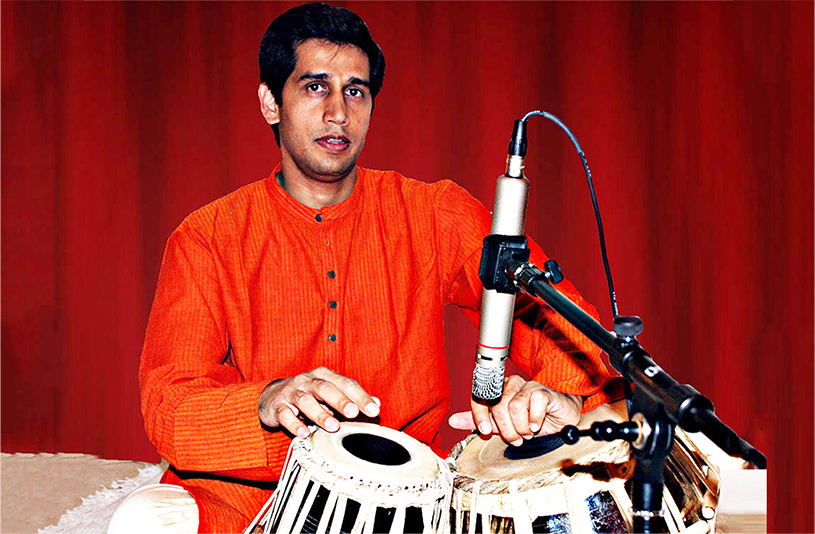 When discussing percussion musicians in South Florida, there is one name that is synonymous with that of a humble unassuming persona – that of Sudhir Limaye. Born and raised in Pune, India, Limaye studied at the prestigious Fergusson College and earned his Master's degree in Physics and Electronics from the University of Pune. His area of study helped him formulate his approach to rhythm as a time dependent medium as well as a rhythmic structure of sound, micro sounds and the complexity in algorithmic compositions.
Growing up in India, many are immersed and drenched in different genres of music as a normal part of life. For Limaye, listening to music was a constant in his formative years, but what set him apart is that he developed a very keen ear to the multiple layers of sound objects and its rhythmic structures. He would try to translate these sounds using tables, desks, empty containers and what not, much to the annoyance of his parents and siblings!
Limaye's diverse musical interest began to take root in Hindustani classical music and light sugam sangeet. Though he did not acknowledge it as a teenager, he equally enjoyed Street Folk, Bollywood, Jazz, and Western music. Being exposed to these different genres and his intent listening contributed to the versatility in his style of playing the tabla. In fact, this ability to easily switch between styles is Sudhir's unique skill making him the most sought-after accompanying artist in South Florida not only in Hindustani classical, and light classical music, but also in light Indian/Bollywood music and Jazz ensemble concerts.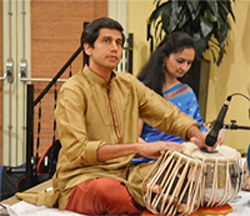 After learning the tabla on his own for many years, Limaye began his formal training at the age of 21. While a student at Fergusson College, Limaye developed a friend circle around Bollywood music who encouraged him to develop his interest in tabla even further. Limaye quickly realized the tabla is one of the most versatile instruments, which spoke to his diverse interest in music genres.
Since moving with his family to Boca Raton, Florida, in 2001, Limaye has been an active member of the music community in the region. After many of his performances, parents would request Limaye to take on their children as shishyas. So in 2005, Limaye established Naada Brahma School of Tabla with two children and one father as his first students.
Limaye continues to actively perform at various local events. Over the years, he has performed in more than 250 performances in various musical formats. Limaye performs fusion music in the South Florida area with Daryll Dobson, a guitarist and composer, and he is a part of Daryll's trio band Metaphysical Jazz. They have recently released a fusion album online called The Third Alignment with Dobson's original compositions, and it was well-received in the Jazz world.
Learn more about Sudhir Limaye in our interview with him.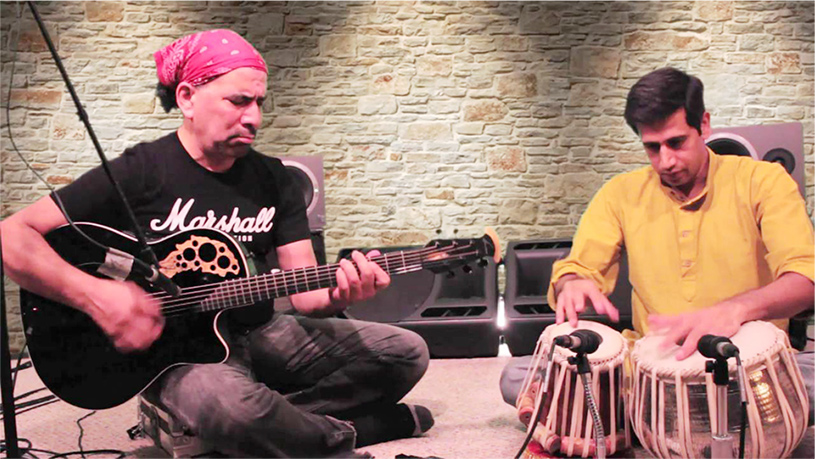 Who is your Guru (teacher) now and when you started?
Back in the 1990s, a good friend of mine (a tabla player) suggested I approach one the most renowned tabla teachers, Pandit Suresh Samant, in Pune, India.
Pandit Samant was extremely strict and would only accept students who had a keen interest and commitment toward learning the instrument. He was known to send the student home if he had not mastered the previous lesson, did not play well, or even if he was late to come to the class. After a lot of scrutiny, I was finally admitted to the class and my formal training started.
How long was your training?
I completed five years of rigorous training in Delhi and Farrukhabad gharanas.
Delhi gharana is mostly known for its 'bandabaaja' (closed sound playing) type of playing. This Gharana gave importance to playing on Chaati with two fingers and was also called as "Do Ungliyon Ka Baaj" – playing the instrument merely using two fingers. Farukhabad Gharana is a blend of Delhi, Purab and Lucknow style of playing and has a pakhawaj (one horizontal piece of instrument) like resonance as well as speed and Chaati use like in Delhi Gharana.
Learning Tabla with this teacher gave me an opportunity to learn both styles – thebandabaaj and Khulabaaj (open sound playing) style of playing.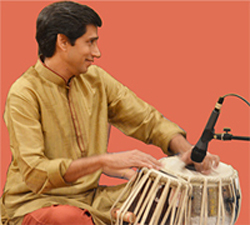 Tell us more about your first public performance.
I began performing in Intercollegiate classical and light Indian music events while I was doing my Masters. My group of friends and I would travel to various places in India performing at different venues, and we collected a few awards in some interstate music competitions. I still clearly remember my first performance at the University of Calcutta, where there was a crowd of about 300 college graduates watching the show. The energy and enthusiasm was palpable in this highly competitive event. I remember thinking my rapid heartbeat would be heard louder than my tabla! We ended up winning the first prize in the orchestra and semiclassical section. The entire college physically took his team out on the streets dancing to celebrate their success! There has been no looking back, and I have since given over 250 public performances in India and the U.S.
Who do you consider to be a mentor and why?
Apart from my Guru, the Late Pandit Suresh Samant, I attribute my success to the many, many masters that I cannot even begin to name. It is my firm belief that all the music I have listened to, the musicians, music composers, and lyricists, all are my mentors as they were all my first teachers. Among Bollywood music composers, I admire R. D. Burman and Madan Mohan and have learned a lot from their compositions especially for their lilting melodies and the rhythmic structuring and use of instruments.
What advice do you have for young Indian Americans who wish to pursue a career in music or the performing arts?
Single minded devotion and commitment to worshipping art form, whatever it may be, is the most important aspect that cannot be stressed enough. It is a lifetime commitment to sadhana, which has a very deep meaning – spiritual exertion towards an intended goal. One has to completely immerse the self in the riyaaz, that is the disciplined practice ritual. The younger generation is extremely fortunate to have many resources of technology to learn an art form. But they can get caught up with instant gratification and the trap of social media. They have to constantly push themselves, work hard by setting goals to compete with their own selves. Be open to criticism, be a keen listener, constantly think about something creative and unique, understand and accept your limitations– try to work hard to overcome those are my golden words for aspiring artists.
Success means different things to different people? What does it mean to you and how would you define it?
Anything that I can do to help people come out of their worries and see a smile on their face gives me the greatest satisfaction and a feeling of success.
What do you think is the secret behind your success?
Success in any field is a product of one's natural abilities through the genes, the environment and most importantly the dedicated hard work that is input. My grandfather was a sitar player, and I remember intently listening to him play, even at a young age of five. Other than that, we did not have a musical family. I was fortunate enough to find the right Guru, who was so strict that it forced me into hours of riyaaz, much more than I would have played out of sheer love for the instrument! But in the end, nothing succeeds like the hard work and hours of practice input.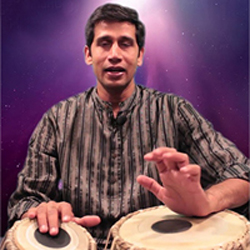 An American colleague once asked me an interesting question: "Why are Indians in the US at the forefront of a variety of fields?" What do you think?
The sheer population in India encourages competitiveness from a very young age. It instills a strong desire to succeed and do better than the best. Also the conditions in India are unpredictable and uncertain, so the people there learn quickly to think on their feet, adapt to the changing circumstances and improvise their response. The tolerance level to frustration is very high and therefore they never give up. The stable family structures with very close-knit relationships with relatives and cousins make them confident and secure. Most families raise their kids with a strict upbringing with the utmost importance on higher education.
Favorite Quote: Imagination is more important than knowledge. – Albert Einstein
Favorite Book: Agony and Ecstasy by Irving Stone, a biography of Michaelangelo. The message of this book emphasizes that adversity brings out the best in you if you dont allow it to crush you.
Favorite Indian Movie: Ijazat and Water as these movies make you wonder if art follows life or vice versa.
Favorite Non-Indian Movie: The Godfather