His Holiness Pramukh Swami Maharaj Passes Away
His Holiness Pramukh Swami Maharaj Passes Away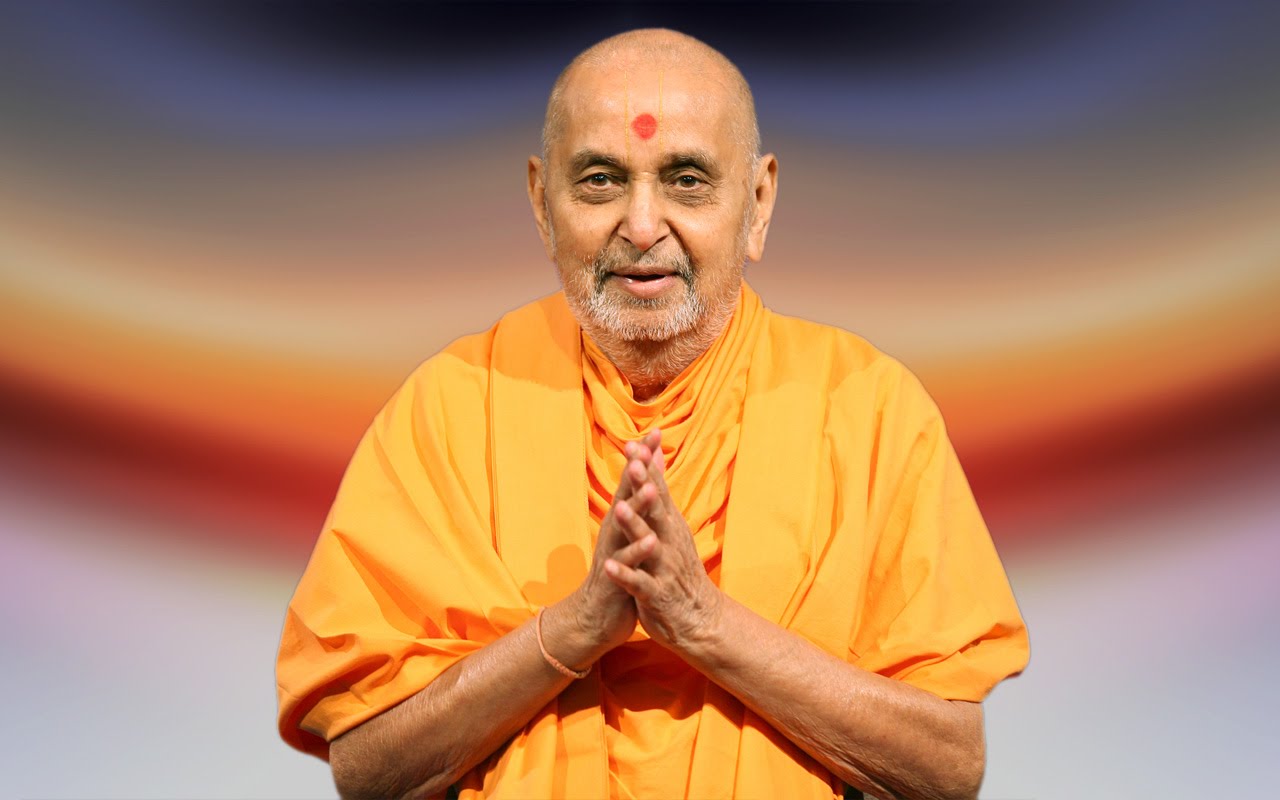 The creator of Akshardham and Spiritual Head of BAPS Swaminarayan Sanstha
Mourned by Countless Devotees and Well-Wishers Worldwide
Ahmedabad, 13 Aug 2016
Today, on 13 Aug 2016 at 6 p.m., H.H. Pramukh Swami Maharaj, the spiritual head of BAPS celebrated for his worldwide socio-spiritual services, passed away at Sarangpur, Gujarat, at the age of 95 years.
Pramukh Swami Maharaj was the fifth spiritual successor in the guru parampara tradition of Bhagwan Swaminarayan. For more than seven decades he had been travelling tirelessly, visiting over 17,000 towns and villages in India and abroad. However, for the last two years, because of old age and frail health, he had been residing at the BAPS Swaminarayan Mandir in Sarangpur under the able care of expert doctors.
Most recently, Pramukh Swami Maharaj had been affected by a chest infection from which he had gradually recovered. However, due to his longstanding heart problems, he passed away peacefully at the BAPS Swaminarayan Mandir in Sarangpur.
Pramukh Swami Maharaj was born on 7 December 1921 to a humble farmer's family in the small village of Chansad, near Vadodara in Gujarat. In 1939, he renounced home to become a renunciate and received initiation into the sadhu-fold from his guru, Brahmaswarup Shastriji Maharaj and was named Sadhu Narayanswarupdas.
On completing his Sanskrit studies, he was appointed as the kothari of the BAPS Swaminarayan Mandir in Sarangpur in 1946 at the age of 25 years. Then in 1950, aged 28 years, Shastriji Maharaj selected him as the President (Pramukh) of BAPS in his place. Since then, he had been fondly known as 'Pramukh Swami'.
Shastriji Maharaj passed away in 1951, declaring Yogiji Maharaj as his spiritual successor. Thereafter, Pramukh Swami served under the guidance and blessings of Yogiji Maharaj. In 1971, after the departure of guru Yogiji Maharaj, Pramukh Swami Maharaj succeeded him as the fifth spiritual guru of BAPS. Over the next 45 years, his unremitting satsang travels, selfless services to society, saintly virtues and profound devotion to God earned him the respect and reverence of countless worldwide.
His untiring efforts in uplifting the tribals, liberating thousands from vices and addictions, providing relief and rehabilitation to innumerable people in times of calamity and catastrophe, and inspiring character and faith in hundreds of thousands of children and youths were some of his many outstanding services to society.
He also created and consecrated 1,100 mandirs and giant cultural complexes like Swaminarayan Akshardham in New Delhi and Gandhinagar to portray the cultural and spiritual heritage of India.
Renowned spiritual masters and heads of state have been deeply touched by his humility, saintliness and noble works. These include His Holiness The Dalai Lama, India's late president Dr APJ Abdul Kalam, Prime Minister Narendra Modi, Prince Charles, former UN Secretary-General Kofi Annan, the late Sheikh Isa bin Salman al Khalifa of Bahrain, and many royals, heads of state and other dignitaries. All were profoundly touched by Swamishri's spiritual personality and humanitarian services to society.
The news of his earthly departure has created a pall of deep sadness among countless devotees and well-wishers. A massive concourse of devotees and others are streaming into Sarangpur for his last darshan and to pay their final respects to him.
For more details refer to www.baps.org