How to: Get Gorgeous, Expressive Eyes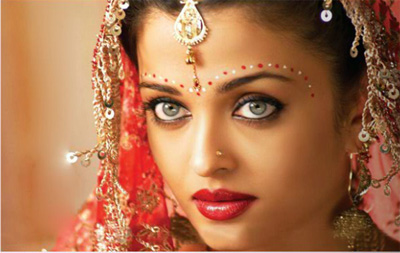 When it comes to Indian weddings, everyone knows that grandeur and boldness are everything. As a bride, when you consider different types of makeup for your eyes, you should lean towards slightly heavier styles. Light or nude makeup does not usually complement bright and glittery Indian bridal wear. Since your eyes are the most attention-grabbing feature of your face, they need to be done with expertise to look expressive without seeming gaudy or tacky.
Begin with a base
A foundation primer for the eyes is very important to ensure the makeup lasts longer. Blend the primer foundation into your skin and let it settle for a few minutes. Next, spray water on the applied primer foundation. Use a cotton pad or a towel to gently tap the eyes. This gets rid of any excess primer.
The look
In the months prior to your wedding, experiment with different shades and weights of eye shadows. Choose colors that match or complement your bridal dress. Most important, be sure the colors you choose look good on your skin tone. Some options to achieve "the" look:
• Going with the conventional dual-toned eye shadow is always an option. To add traditional appeal, add a touch of glittering gold or silver eye shadow just under the outer edges of your eyebrows.
• Light smoky eyes work well for many Indian brides. This is usually the perfect way to go for your reception.
• Apply heavy kohl or eyeliner and mascara. Use false lashes to amplify length and accentuate the eyes. Use a high quality mascara to curl them.
Don't forget about the rest of your face! To best highlight your eyes, the makeup on the rest of your face should complement the look. Consider a soft pink or bronze blush to balance the eyes. Lip colors can range from subtle to bold depending on the look you choose for your eyes.