Human papilloma virus has the ability to cause prostate cancer
Human papilloma viruses (HPV), a common group of viruses known to cause cervical cancer, may also have a causal role in prostate cancer, according to a review of the literature published in the open access journal Infectious.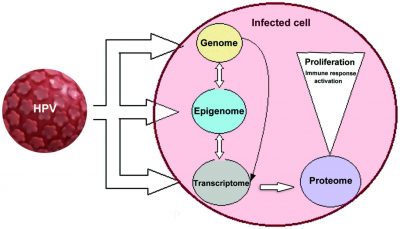 James Lawson and Wendy Glenn of the University of New South Wales in Australia reviewed the results of 26 previous studies on HPV and its links to prostate cancer. They evaluated existing evidence using a common set of nine causal criteria, including the strength and consistency with which HPVs were associated with prostate cancers and whether HPVs were detected in prostate tissues that later developed cancer.
"Although HPVs are only one of the many pathogens that have been identified in prostate cancer, they are the only infectious pathogen that we can vaccinate against, making it important to assess the evidence for a possible causal role of HPV in prostate cancer," says James Lawson.
The authors found that high-risk HPV types 16 and 18, which cause most cervical cancers, have been identified in normal, benign, and malignant prostate tissues.
In several case-control studies, the prevalence of high-risk HPV DNA, indicating the presence of cancer-causing types, was significantly higher in prostate cancers compared to normal and benign prostate controls.
More specifically, recent studies found that 231 of 1,071 prostate cancers (21.6%) were positive for HPV, while only 74 of 1,103 benign prostate controls (6.7%) were positive for HPV.
Prostate Cancer
Cancer
HPV
Human papilloma viruses