I Love Gita: A South Florida Annual Tradition for Over a Decade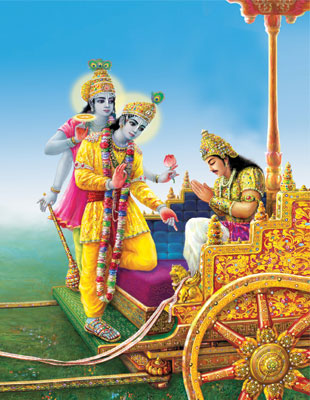 I Love Gita is Chinmaya Mission Miami's annual Shrimad Bhagavad Gita Chanting Competition that celebrates and promotes learning the Gita among the younger generation. The competition has been conducted for over a decade in South Florida, showcasing the best of scholarship, discipline, and courage in the community's children, youth, and adults, as they chant to uphold the value and glory of the Gita. The December 2, 2012 competition promises to be no different and registration is now open.
This chanting competition was conceived and promoted in the mid 1970s by His Holiness Swami Chinmayananda, the world-renowned spiritual master and acclaimed Vedanta teacher, who conducted over 500 Gita jnana yajnas (lecture series) around the world in his lifetime. He said:
"If the Upanishads of the Vedas are the textbooks on the philosophical principles behind man, world and God, Shrimad Bhagavad Gita is the handbook of instructions on how every human being can come to live these subtle philosophical principles, called Vedanta, in the actual work-a-day world."
"This great handbook of practical living marked a positive revolution in Hinduism and inaugurated a Hindu renaissance for the ages that followed the Puranic Era. In the Gita, the poet-seer,  brings the Vedic truths from the sequestered Himalayan caves into the active fields of political life and the confusing tensions of an imminent fratricidal war. Under the stress of psychological maladjustments, Arjuna loses his mental equipoise and capacity to act with true discrimination. Lord Krishna takes in hand this neurotic mind of Arjuna to give him a treatment with Vedic truths.
Religion is philosophy in action. If we try to digest properly the implications of the Gita's advice in the light of Vedic lore, it becomes amply clear how actions performed without egocentric desires purge the mind of its deep-seated impressions, and make it increasingly subtle in its purification and preparation for greater flights into the Infinite."
"With the motto of "Learn, Chant, Know, Study, Live . . . Shrimad Bhagavad Gita, participants chant in the memorized or open book category, and are judged on memorization, pronunciation, tune, and overall presentation. All chanters are recognized and receive a special memento at the competition, while winners (first place, second place, and/or honorable mention) are determined by their scores and receive beautiful prizes. Over the years, notable winners have included Abhinav Totapally, Apoorva Ravichandran, Deepti Sailappan, Manas Mahajan, Neil Kumar, Nivedita Bhat, Radhan Gopalani, and Ramanakumar Natarajan."
From parents inspiring their teenagers to PreK children inspiring their grandparents, "I Love Gita" has brought forth undeniable excellence through participants who have displayed their pride and joy year after year in chanting Shrimad Bhagavad Gita, the quintessence of Hinduism's ancient cultural lore. Chinmaya Mission welcomes persons all ages to participate in "I Love Gita" on Sunday, December 2, 2012: Visit www.CMmiami.org.