In Love for Eternity – Monali Weds Kenny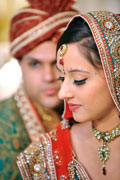 Not every love story has a perfect ending with bubbles, candy-colored hearts and magic everywhere. Every once in a while, when you do find the perfect love story that has a befitting end, your faith in love is strengthened. For Kenny and Monali, although their life together has only just begun, their romance that culminated in a fairy tale wedding is like a complete story in itself.
When Monali Rathod moved to Atlanta the summer of 2006 to study pharmacy, she never suspected her life would change forever. An evening with friends began a tryst with destiny when she met Kenny for the first time. He literally swept her off her feet, offering to carry her to the car as she walked barefoot to curb the pain from her high-heeled shoes. Ironically, though they had several mutual friends, the two had never met. It seems that fate arranged a grand opening sequence for this drama.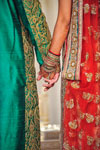 Four years of dating and courtship followed, after which Kenny was certain that it was time to make things official. Comforted by the fact that the relationship met with approval from both sets of parents, Kenny took the first step. On the pretext of taking Monali some place new, Kenny actually took her to where they first met. He then feigned an untied shoelace as he got down on one knee to propose. Monali could do little but accept, and she did with all her heart.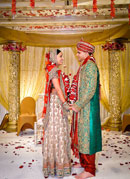 With a year to plan the wedding, there was enough time to attend to all details. Given that Monali's sister married just two years before, the experience was fresh on her mind and helped Monali as she went about planning her own wedding. Both families were actively involved and with the help of wedding professional Nadira Merali from Evni Event Planning, no detail was forgotten. The only trouble with all the excitement and enthusiasm was the abundance of choice and having to stand by a decision once a choice was made.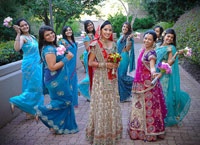 Celebrations began with the mehndi ceremony that was hosted at the neighborhood clubhouse, which was the easiest, most accessible and convenient location. A grah shanti was held at the Rathod residence in Cumming with about 50 members in attendance. Kenny, on the other hand, enjoyed his grah shanti with close to 100 members of family and friends at his family's Wauseon residence. The night before the wedding, both families came toge-ther for an informal dinner. The occasion served as a great icebreaker and precursor to the upcoming wedding celebration the next day. Children and adults alike embraced the evening with abandon during a dinner catered by Udipi and an ice cream sundae bar by Bruster's Ice Cream.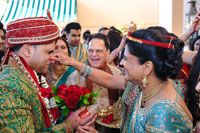 The ceremony location was decorated in appropriate colors for the occasion, with traditional gold being the highlight. With intricate jail work and a see through glass top on which delicate rose petals were precariously perched creating the most exquisite sight. Nearly 450 guests gathered at the Gwinnett Place Marriott for the wedding. It was a deliberate choice, being familiar territory for the bride's family who held Monali's sister's wedding at the same venue. They were also extremely comfortable working with the hotel wedding coordinator, Jill Bish. The biggest advantage was that the guest rooms, wedding and reception areas were all in the same place, making it a logistic dream.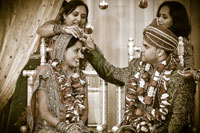 Prior to the wedding, Kenny and Monali met briefly so that they could have some pre-ceremony pictures taken. This, in Monali's opinion was an extremely wise decision and something she advises all brides and grooms consider doing.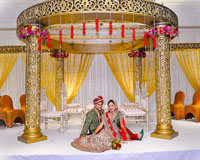 During the reception, DJ Sahil brought together classics and contemporary music, with help from Kenny's brother Minesh, a popular DJ in the south. Every guest was moving to the music and enjoy in the great food. The evening decors hone in colors of plum and gold with delicate diamond shaped estate tables and lighting creating an ambiance of perfection. The surprise of the evening was a same day edit of wedding photographs created by Zamana.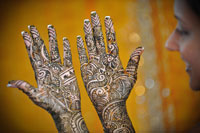 In looking at any wedding in retrospect, there is always much to learn from the experience. Monali meticulously maintained a diary, in which she kept diligent notes, starting the first day of planning. She was in regular touch with all her vendors to ensure arrangements were in place. While she candidly maintains that things will never be as perfect as you expect, it is best to smile and enjoy every minute. As she beamingly admits, watching Kenny stand before her smiling made all the minor details fade away.