India & Pakistan Exchange Fire in Kashmir
India and Pakistan exchanged fire in disputed Kashmir on Sunday, killing nine soldiers and civilians according to the officials. This firing across the line dividing the disputed Himalayan region of Kashmir is said to be one of the deadliest attacks this year.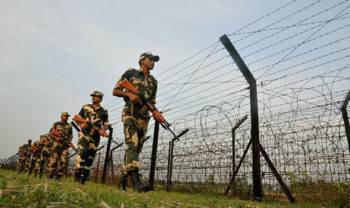 The Indian military said that the Pakistani soldiers targeted an Indian border post and civilian areas along the Line of Control (LoC). An Indian army spokesperson, Col. Rajesh Kalia, called it an "unprovoked" violation of a 2003 cease-fire accord between India and Pakistan.
The spokesman for the Indian Defense Ministry revealed that two Indian soldiers and one civilian were killed during the attack. The spokesperson for the Pakistani army revealed that five civilians and one soldier were killed on the Pakistan's side of LoC. But both sides however claim that they have killed a larger number of soldiers of the other countries in the incident.
Indian Army Chief, General Bipin Rawat told media agency that the firing began when militants attempted to cross into the Indian side of LoC. Gen. Rawat said that the Indian army on Sunday destroyed three terror camps in Pakistan-occupied Kashmir after Pakistan Army fired on Indian positions to infiltrate terrorists. He said, "An attempt was made in Tangdhar to infiltrate terrorists, we retaliated, Pakistan carried out attack firing at our post in which we did suffer, but before they could attempt the infiltration it was decided that we target that terror camps across."
"On the basis of the reports that we are getting, 6 to 10 Pakistani soldiers have been killed, three terrorist camps have been destroyed. A similar number of terrorists have also been killed," he further added. Indian Army Chief believes that ever since the Article 370 has been abrogated in the state of Jammu & Kashmir, "the forces are getting repeated inputs about infiltration by terrorists from across the border."
Pakistan-occupied Kashmir
General Bipin Rawat
Indian Army Chief
Line of Control
Indian Defense Ministry
Indian army
Jammu & Kashmir