Indian- American Venkat Ranjan Wins 2018 National Geographic Bee
Second and third places also earned by Indian- American Students from New Jersey and Georgia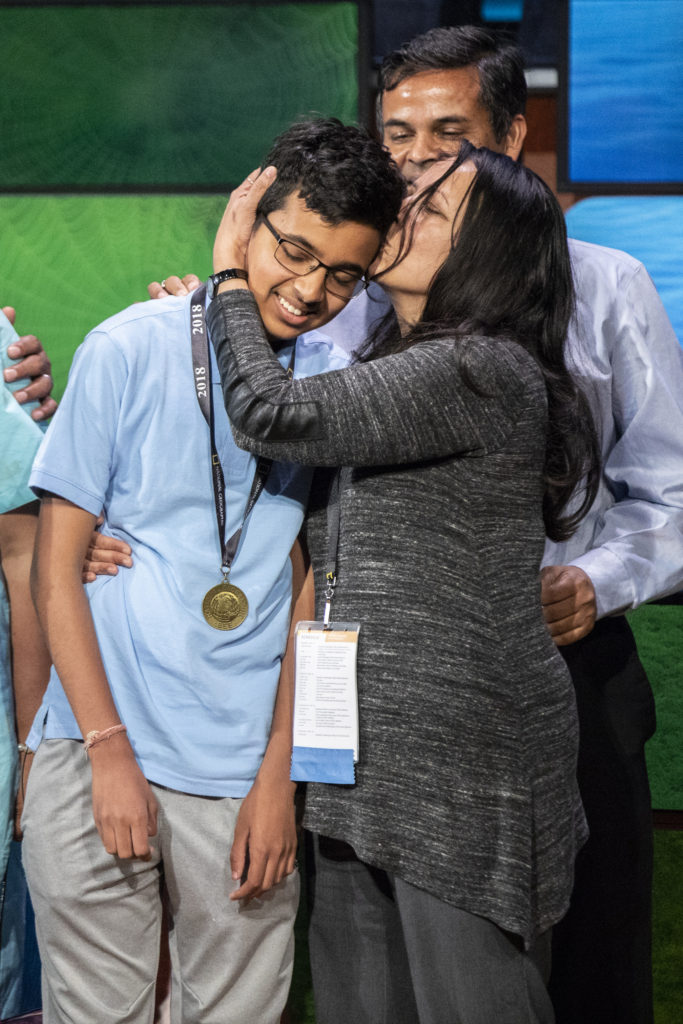 Venkat Ranjan of San Ramon, California, a 13-year-old 8th-grader at Windemere Ranch Middle School, took top honors at the 30th annual National Geographic Bee held on May 23 at National Geographic headquarters in Washington, D.C. In addition to earning the title of National Geographic Bee champion, Ranjan received a $50,000 college scholarship and a lifetime membership in the National Geographic Society. He will also travel (along with one parent or guardian), all expenses paid, on a Lindblad expedition to the Galápagos Islands aboard the National Geographic Endeavour ll. Travel is provided by Lindblad Expeditions and National Geographic. Second- and third-place finishers will receive $25,000 and $10,000 college scholarships, respectively.
The second-place winner and recipient of a $25,000 college scholarship was 13-year-old Anoushka Buddhikot of Bridgewater, New Jersey, an 8th-grader at Bridgewater-Raritan Middle School. Third place and a $10,000 college scholarship went to Vishal Sareddy of Suwanee, Georgia, a 14-year-old 8th-grader at Riverwatch Middle School.
In the final round of the single elimination competition, the winning question was "Lebanon has a population most similar to which South American country?" Ranjan's winning answer: "Paraguay."

Fifty-four state and territory winners took part in the preliminary rounds of the 2018 National Geographic Bee on Monday, May 21. The top 10 finishers in the preliminary rounds met for a final round, which was moderated by humorist, journalist and actor Mo Rocca. The seven other finalists, who each won $500, were Gayatri Kaimal of Tucson, Arizona; Atreya Mallanna of Lexington, Massachusetts; Sean Cheng of Stratham, New Hampshire; Jonathan Song of Apex, North Carolina; Saket Pochiraju of Lewis Center, Ohio; Ashwin Sivakumar of Portland, Oregon; and Nihar Janga of Austin, Texas.
Venkat Ranjan
Windemere Ranch Middle School
National Geographic Bee
Galápagos Islands
Anoushka Buddhikot of Bridgewater
Bridgewater-Raritan Middle School
Vishal Sareddy of Suwanee
Riverwatch Middle School
Mark Thiessen
National Geographic
Mo Rocca
Gayatri Kaimal of Tucson
Atreya Mallanna of Lexington
Sean Cheng of Stratham
Jonathan Song of Apex
Saket Pochiraju of Lewis Center
Ashwin Sivakumar of Portland
Nihar Janga of Austin