Indian Art and Artists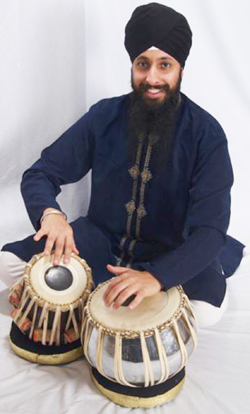 At the age of seven, Shamsher Singh began studying the tabla at the Sikh Gurdwara in New Jersey. He continued his studies in tabla and Indian classical music with some of the most highly sought after maestros including Ustad Zakir Hussain and Pandit Anindo Chatterjee. Shamsher currently teaches tabla to over 30 students in the South Florida area and performs regularly with other Eastern and Western musicians. Shamsher has had the privilege to perform with Latin singer Shakira, Ustad Raghbir Singh, Ustad Hamid Ali Khan, and many others. Shamsher also plays a variety of other Indian percussion as well as an Indian stringed instrument called dilruba.
When did you start playing Tablas?
I started playing tabla when I was 7 years old when my father put me into tabla and Kirtan classes at the local Gurdwara.
Who inspired you the most?
I get all of my inspiration from Guru Granth Sahib Ji, my Guru and the Guru of the Sikhs. The Guru has chosen music as the vehicle to praise the One God. I started learning tabla in the Gurdwara by accompanying Sikh Kirtan. Today, I continue to learn and practice tabla so I can further my accompaniment skills in Kirtan. Music is a universal language and is used to express feelings and messages across all cultures. Five hundred years ago, the Gurus would play instruments and praise God and they have inspired me to play the tabla.
Who was you Guru (Teacher) when you started?
My father initially started me on tabla and then enrolled me into classes at the local Sikh Gurdwara in New Jersey with a prominent Tabla Master from India named Binod Singh. I continued studying with him and then moved to Boston for my undergraduate studies where I started learning from Sandeep Swadia and Aditya Kalyanpur who are senior disciples of Ustad Allah Rakha Khan Sahib and Ustad Zakir Hussain.
Who is your teacher now?
I currently attend regular classes with Ustad Zakir Hussain.
What do you currently like most about the Tablas and Indian music?
Tabla and Indian music in general is all about improvisation. After learning the fundamentals, various fixed compositions and structures of rhythmic cycles, one can begin to use his or her imagination and come up with new and unheard of ideas on the tabla. There is never an end to tabla and one can never practice enough. I enjoy accompanying Kirtan, other instrumentalists, and other drummers as this is where I realize new and different ideas in tabla.
What kind of dedication is required to master the tabla?
Just like any other instrument, the tabla requires quite a bit of regular practice. If I'm lucky, I can practice for 30 minutes everyday with my busy schedule; however, I should really be practicing 3 to 4 hours everyday to progress further. For beginners, it may seem difficult to produce the correct sounds on the tabla, but keeping at least 15-20 minutes a day devoted to serious practice is the right way to begin.
If you could meet any artist, who would it be, and why?
I would have loved to meet the late Ustad Allah Rakha Khan. He was the father of my current teacher, Ustad Zakir Hussain. Ustad Allah Rakha was the tabla master who elevated the tabla to another level of expression and appreciation. Today's tabla players love the tabla because of its ability to have a wide range of expressions, which was brought to light by Ustad Allah Rakha Khan.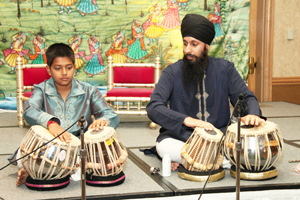 Please tell us about your role as a tabla teacher.
I'm currently teaching tabla to over 30 students in the South Florida area. I moved to South Florida two years ago and have been teaching since. I've always enjoyed teaching and sharing this exclusive art form with others who are interested in music and it also reinforces my own fundamental tabla playing skills. I teach at my home in Coconut Creek and at the Shiva Temple in Oakland Park.
What advice would you give to children wanting to learn the tabla or singing?
Anyone wanting to learn the how to play the tabla should start listening to recordings of other tabla players, watch videos, and start reading about it on the internet. Children should want to pick up the tabla for themselves and if they are very young (i.e. 8-12 years), they may need a push from the parents because tabla is not such a popular instrument. I wasn't so interested in tabla myself but my father enrolled me into tabla class. Another advantage is that my brother learns and sings Kirtan, so I was getting trained in tabla to accompany my brother and had motivation to keep learning. I find it best when siblings or close friends learn the same or different instruments together so they can motivate each other and practice daily with each other
What is the most difficult thing in your art form?
The most difficult aspect of tabla is learning to be a better student. Once one understands the fundamentals and can comprehend various aspects of tabla playing as a solo or accompanying instrument, the tabla itself will become your teacher. Every time I play tabla, I find slightly new ways of interpreting ideas that my teachers have given me in the past. As one continues to delve deeper into the world of tabla, it becomes more difficult to master the instrument. There are infinite possibilities in tabla and there is no end to learning. One must understand they are always going to be a student of tabla, no matter how long they have been playing.
How has fusion (east meets west) affected your field?
I've had the chance to play with various Western musicians with such instruments as piano, violin, guitar, drums, and flute, just to name a few. Since music is a universal language, most instruments can easily blend together as long as there is a beat and melody. Also, since there are so many possibilities of producing various rhythmic patterns and beat cycles on the Tabla, it has recently been seen more and more in the Western music scene. I recently had the privelage to perform alongside Latin singer Shakira, in her latest "She Wolf" album on the "Gypsy" track and a few videos. I accompanied her on a South Indian instrument called Ghatam, also known as Matka.
For more information, please visit www.sangeetacademy.com
indian art
artists
sikh gurdwara
new jersey
shamsher singh
ustad zakir hussain
pandit anindo chatterjee
south florida
shakira
ustad raghbir singh
ustad hamid ali khan
guru granth sahib ji
binod singh
sandeep swadia
aditya kalyanpur