Indian Art & Artist By Amit Talati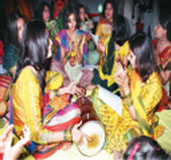 We are just returning from a niece's wedding in Cleveland, OH (in case you are wondering, yes, the groom arrived on a magnificent white horse, followed by a procession led by a dholi). Another niece has her big day in October … 2008 seems to be the year of nieces tying the knot! Many things have changed over the years (options between short versions or the long versions of the rituals are available!). At the same time, we see a continuation of many traditions. This is especially true when it comes to the music of weddings.
Indian Hindu weddings have never really been about a couple getting together, but always about the union of families. Wedding songs facilitate this union through fun and frolic. It is the perfect icebreaker. Traditionally, this was also very important because the bride and groom did not know each other for a long time.
Given the vast country that India is, with its diverse cultures, there are many traditions. It is difficult to identify a definitive wedding tradition. Communities from the north, south, east and west all have their different rituals and customs. Even within these, differences abound. What we discuss here is more typical of Northern/Western Hindu communities
All the music of the wedding – like the one we attended recently – runs in parallel with the events. The evening of the mehndi, where the bride gets intricate henna designs on her hands and feet, is the first event, which has its own music. There are specific mehndi songs, which celebrate the color of the mehndi, the love it represents, and the anticipation as the bride patiently watches the designs take shape. This musical event is attended by both families, and they dance together, getting to know each other.
There are special songs for each part of the wedding. The ganesh-sthapan (offering of prayers to Lord Ganesh, the remover of obstacles), the mangal-ashtak (sung by the bride's relatives wishing them marital bliss), the pithi (where a paste of turmeric and sandalwood is applied to the bride and groom as a cleansing ritual), the fera (where the bride and groom are tied in matrimony taking the holy fire as witness), the hast-melap (meeting of hands symbolizing meeting of two souls) are all accompanied with music and traditional songs. These songs mostly find their roots in folk music, and are passed down through generations big day.
Instruments typically associated with weddings are the shenai (a reed wind instrument), and the rhythms are provided by the dhol or dholak (two headed drums) though this has changed a lot in recent decades, as wedding songs from Bollywood movies have made their way in. Although purists may disagree, this is understandable, since it brings familiar tunes and lyrics to all the ears. The groom's approach to the wedding mandap is usually led by a dhol player (or some similar percussion instrument). The rhythms are usually folk to which everybody can dance. During the wedding ceremony, it is common to hear soft shenai playing in the background. Wedding songs mentioned above are also sung during the same time the priests are conducting the ceremony. Sometimes (like the wedding we just attended), the priest will pause to allow for a song to be sung. Many of these songs are in the 7 or 10 beat rhythms, offering a very distinctive ambience and feeling. This also allows the songs to emphasize their meanings and lyrics.
It is difficult to talk about weddings and wedding songs without mentioning two recent movies, which have expounded and popularized music in various rituals. Both Dilwale Dulhaniya Le Jayenge and Vivah are based on Hindu marriages, and depict many of the traditions in the musical context
Seema Naik, our artist of this issue, has been singing garba, bhajans, sugam sangeet, and lagna-geet (wedding songs) since she was a child artist in All India Radio, Ahmedabad/ Vadodara. She comes from a family of musicians, traceable through seven generations to the courts of the Maharaja of Bhavnagar, Saurastra. Her CD, "Shravan ma Moklo Ne Aana," which is a collection of folk music was recorded in 2002. She has recently moved from Canada to South Florida, where she lives with her husband and two daughters. She can be reached at naik2315@gmail.com.
AMIT: Even though you are a classically trained singer, why do you prefer to sing folk forms like garba and wedding songs?
Seema: Classical music sets an important and essential foundation for any singing. However, to reach out to all music lovers it is vital for any singer to have versatility. Personally, since I am from Gujarat and have large exposure to folk music from childhood, I always had affinity towards folk music so I choose to sing folk forms. Wedding songs are especially very close to my heart as they relate to emotions and give personal touch to the wedding event.
AMIT: What special talent do you think a wedding singer should have?
Seema: Apart from singing talent, a wedding singer must have the knowledge of the language either Gujarati or Hindi. Also, the knowledge and significance of each part of the wedding ceremony plays a vital role in coordinating the songs. Weddings are a time for everybody to rejoice and be merry. It is an emotional experience, and the singer should feel part of it too.
AMIT: Do you feel that DJs and recorded CDs are replacing traditional live wedding singers?
Seema: I feel that people do know the importance of live weddin songs, as they have spent years experiencing them from our traditions. However, sometimes the decisions are made to choose DJs and recorded CDs to make it cost effective.
AMIT: Why do we mainly hear female voices in wedding songs?
Seema: The wedding songs express profound emotions of joy and sorrow at the same time. I do not want to stereotype any men, however it is known that women can portray emotions more vividly and intensively than men can. Also, from olden days till present times women play major roles in any wedding planning.
AMIT: What kind of future do you see for wedding singers in the US?
Seema: The future is bright as the younger generation is involved in various cultural activities and heritage education programs through temples and student organizations in colleges and universities. The parents' role is most important in this aspect to keep their children involved in cultural activities and learning our native languages.
AMIT: How can we encourage youngsters to learn and perform folk music?
Seema: If the youngsters are encouraged to learn our language and visit India whenever possible to see and experience the family events, then this will help them get interested in our culture. As I already mentioned, parents have to make a conscious effort to keep their children involved through various educational and cultural activities in temples and dance academies from young age. Once they get involved not only do they make friends, but they will also understand the value of our rich culture and heritage. Later as they grow up they do showcase their talents at local, regional and national levels through various competitions.
AMIT: Who are your favorite artists?
Seema: I am an admirer of many artists but some of my personal favorites are Hemu Gadhavi, Purshotam Upadhya, and Harshida Raval.
About Amit Talati