Indian Dishes you can Serve in Shot Glasses at your Wedding
When it comes to their wedding, every couple wants to add some element to wow their guests and stand out from the rest! Wedding trends are constantly changing. One of the latest trends in weddings is the use of Shot Glasses. And, we are definitely not talking about alcohol.
Shot Glasses are now becoming a favorite at weddings, be it as a favor or as centerpieces. We have the most unique way you can "Indian-ize" shot glasses for your wedding. Here are some Indian dishes that you can serve in a shot glass and make your wedding a stand out affair.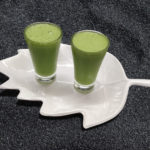 #1. Paan Shots
Let's start with a refreshing welcome drink that is an Indian favorite. Fresh betel leaves, paan masala, some gulkand and a hint of coconut. Yes, it tastes just as delicious as it sounds. Serve it in a shot glass, and use a betel leaf as a coaster.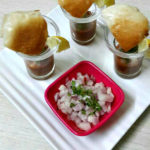 #2. Pav Bhaji Shots
Indian street food and weddings go hand-in-hand. Mini pavs, or buns, resting over a shot glass filled with delicious bhaji. Let your guests dunk their taste buds with this interesting twist.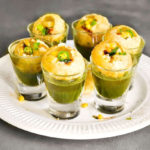 #3. Pani Puri Shots
Call it what you may, gol gappa, pani puri or puchka, but who doesn't love this savory street food that is a dance for taste buds. Rest a pani puri with delicious fillings on a shot glass filled with teekha (tangy), khatta (sour), or meetha (sweet) flavored water.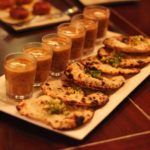 #4. Dal Makhani Shots
One of the latest trends in Indian food industry, serve a mini naan with a shot of dal makhani. It is an easy and convenient food idea.
#5. Chuski Shots
Simply take a mini ice Popsicle, chuski, and let it rest in a glass filled with flavored juice. Simply dunk and enjoy, and remember your childhood days.
chuski shot
pav bhaji shot
pani puri shot
dal makhani shot
paan shot
Indian dishes in shot glasses
shot glasses at wedding
Indian wedding
Indian dishes