Isha Weds Harshal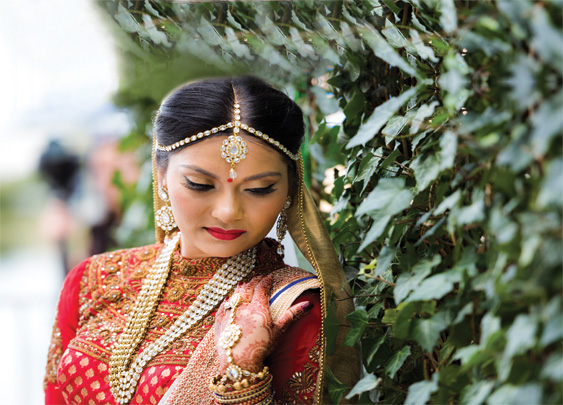 The best way to enjoy your wedding is to ensure that you are part of the planning process. Adding a personal touch and letting your personality reflect in every aspect of the wedding makes it more enjoyable not just for the couple but for those in attendance as well.
Isha and Harshal were inseparable from the moment they began dating, and four years into their blissful relationship, Harshal asked her the all-important question during the winter holidays. Proposing at a photo booth with friends waiting outside expectantly, Isha was swept away by a carefully crafted ring in which Harshal invested a great deal of time in creating.
The wedding date was set for two years later, given that Isha wanted to complete her Masters, and Harshal was working on moving back from Kansas to Florida. The couple was very clear that every aspect of the wedding needed to reflect their taste and personality, which is why they looked into all arrangements themselves, requesting close friends and family to offer extra help. Not only did this contribute to the success of the wedding, it also made it much more fun.
In researching various hotel banquet venues, Isha realized she did not want added expenses, so she settled on the Heaven Event Center, which was modern and chic, giving the couple scope to add color and character.
The morning of the wedding, a happy baraat jump started the festive spirit and led the entourage to a tastefully decorated venue. Rose petals were generously strewn across the aisle, accompanied by chandeliers with cones that held rose petals to be showered at the end of the ceremony. A crystal mandap awaited the couple, and flowers lent a symbolic traditional touch. As the song "Samjhawan" played, the bride walked down the aisle, with the groom arriving in a swanky BMW convertible.
Dreams to Reality, a full-service decor company, brought to life the vision for the reception, using black, silver, white, and royal blue in crystal and floral embellishments. The look for the reception was royal, elegant and modern, and it came through effortlessly. With select music playing through the evening, and special dance performances, the reception was more intimate than they hoped.
Being organized was critical to the event's success, reflects Isha. If her wedding is anything to go by, we learn that hard work and clarity of vision are crucial.
Vendors

BANQUET HALLS
Heaven Event Center
407-488-1800×3
www.HeavenEventCenter.com

BEAUTICIANS/COSMETICIAN
Sarai Rodriguez
407-276-2994
sarairodz@gmail.comProlific Hair Designz
407-505-5919
www.facebook.com/ProlificHairDesignz

CAKE
Everything Cake
321-438-9408

DECORATOR
Dreams to Reality
407-592-9261
www.dreamstoreality.com

PHOTOGRAPHER
Sona Photography
646-250-6337
www.sonaphotography.com

PRIEST
Ashok Shukla
407-913-8080

Wedding Rings
Nick's Diamond
954-346-9863
nshah1056@hotmail.com

DISC JOCKEY                             
DJ Sangeen
407-902-9639
Sangeensingh@yahoo.com

EVENT PLANNER
All About The details
407-924-4209
www.aatdevents.com

FAVORS
Our Photo Booth Rocks
407-509-9786
www.photoboothrocks.com

FLORIST
Dreams to Reality
407-592-9261
www.dreamstoreality.com

MEHNDI
Tejal Henna
407-415-7994
www.tejalhenna.com

The Henna Studio
407-953-6165
thehennastudio@live.com

VIDEOGRAPHY
Riant Films
407-603-6955
www.riantfilms.com