Kainath Kamil Wins ExploraVision K-12 Science Competition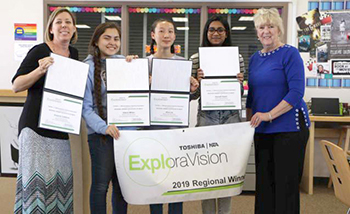 Exploravision is considered among the largest K-12 STEM competition. A high-school team led by Indian-American named Kainath Kamil was named the national winner of grade 10-12 age group. The students are from Mission Vista High School, Oceanside, California.
"It felt unreal. I was so surprised we won such a big competition but so glad that all that work paid off. I am very thankful for the professor who mentored me and my chemistry teacher for being my coach." Kamil told India-West after her team being named the victors.
This year's competition asked students to find solutions for real-world problems using science. Kamil's team developed a way to genetically modify the bacteria M. luteus to take in carbon dioxide and methane.
"The bacteria would be implemented into factories, cars, and cattle farms in order to ease the effects of climate change. They noticed the competition was tough, but much to our surprise we won first place in the entire high school division." Kamil said in an email to India-West.
The news of regional winning of the Kamil's team came about in a month after their team has submitted the entries for the competition. They were qualified for the finals, and finally, they're the tea winning it too. As finalists, Kamil's team had to create a website, a two-minute video, and a prototype, all in one month.
Exploravision
K-12 STEM competition
Indian-American
Kainath Kamil
Mission Vista High School
Oceanside
California
chemistry teacher
M. luteus
carbon dioxide
methane