Kajal weds Viraj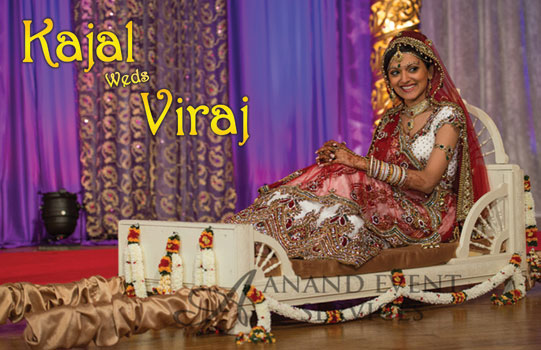 Not every wedding story is a breeze that sweeps you away with in-your-face romance. While there are some stories that will take your breath away, others are more subdued, even slow and hesitant in the offering. Kajal and Viraj's story typifies not only the subdued version, but also what is common to all true wedding stories – a heart-warming tale, romance, and most importantly, a happy ending.
Having known each other for years, Viraj and Kajal only managed exchanged pleasantries during that time. While both of them tell different stories about how their relationship blossomed, the common factor that brought them together is their dogs. After a year together and with the help of the canines playing cupid, a proposal was well in order.
Viraj had to think of something truly unique, since Kajal told him emphatically that she would know of a proposal the moment she saw something fancy. Using rose petals and flowers to frame the all-important question, Viraj even got down on one knee with a ring in hand.
Wedding and engagement plans took off in full swing with Viraj and Kajal handling all the details, and both families lending helping hands. The event took place in Tampa, Florida, which was in close proximity to Kajal's family home. Taking pains to plan and decorate themselves, the garba was a colorful pageant, with drapes and lighting using to spectacular effect.
With Rakesh Anand in charge of all wedding decorations, everything Kajal wanted was arranged just so. Pillars with floral decorations, expanses of white, a gold, purple and fuchsiam unadapted generous up lighting made for a fairy tale experience. Adding to the mood was music that was arranged especially for the occasion.
With pictures taken at each juncture to provide lasting memories, the bride and groom arrived in a car and carriage respectively. Soon after, it was time for the reception, and crystal, Manzanita trees and lighting added a new dimension to the pink, purple and blue theme.
Special dances by the bride, groom and bridesmaids were followed by the father-daughter dance and the couple's first dance. The occasion exuded every element needed to make it magnificent. The troubles, arguments, planning and labor all bore fruit in proportions no one imagined possible.
Every love story has its own special magic. Some find passion, others comfort, some humor and others companionship. However, it is the undercurrent of love and a special friendship that keeps every relationship alive. Through all the nightmares that Kajal lived before her wedding, and the minor oversights that no one even noticed until the wedding video was made, living this relationship and the marriage made the journey of life worth traveling.
For retail banker Kajal and customer care specialist Viraj, they have just begun filling their joint account with special moments and loving gestures. The fortune that they manage to amass during their life will multiply manifold as time progresses.
Photos Courtesy:
Anand Event Services
754-581-0074
www.anandphotovideo.com
Kajal weds Viraj