Kareena Kapoor No Longer Diljit Dosanjh's Crush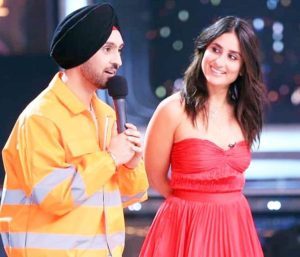 Diljit Dosanjh, who is very shy and quiet by nature, has a new crush. He has recently acknowledged being a huge fan of British pop superstar Dua Lipa. Well, it's not the first time this handsome Punjabi superstar had fallen for someone.

The "Proper Patola" singer has been taken by celebrities such as Kylie Jenner, model Gal Gadot, and his Udta Punjab co-star Kareena Kapoor. Recently Diljit Dosanjh said that he's a huge fan of British pop sensation Dua Lipa. 
While promoting his upcoming movie with Kriti Sanon, Dosanjh was asked about his his previous crush on Gal Gadot, to which he replied, "She's good. I am a fan. But now I am a fan of Dua Lipa." Immediately after that, he raised eyebrows by saying that he wouldn't collaborate with any of them. He said, "Just because I comment does not mean I want to collaborate. I don't wish to collaborate (with them). I am just a huge fan."   
 Diljit Dosanjh and Kriti Sanon's upcoming movie Arjun Patiala will hit theaters on July 26 along with the Kangna Ranaut-Rajkummar Rao film Judgmental Hai Kya.
Kareena kapoor
Diljit Dosanjh
Crush Bollywood News
Proper Patola Song
Kriti Sanon
Dua Lipa
Judgemental Hai Kya Movie
Rajkummar Rao
Kangna