Kartik Aaryan out of Dostana 2
Kartik Aaryan is no longer a part of the film Dostana 2 produced by Karan Johar's Dharma Productions and directed by Collin D'Cunha. On Friday 16 April 2021, Dharma Production stated on social media that they are going to recast Dostana 2 soon. Another striking point in the statement was that it mentioned they have decided to maintain a 'dignified silence' due to professional circumstances.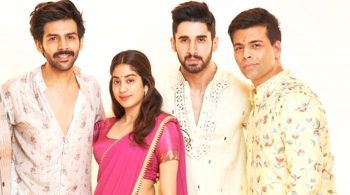 So, what went wrong? Some sources say that Kartik opted out of the film due to 'creative differences. 
Another thing that is heard is the constant delay of the actor in completing the film. Dostana 2 was declared in 2019 with the cast Kartik Aaryan, Jahnvi Kapoor and debutant Lakshya. However, due to Covid 19 outbreak in 2020, the shooting could not be started.
In the rescheduling of the shooting, it is reported that Kartik has been making delays which jeopardised everyone's schedule including Jahnvi Kapoor.
It has also been learnt that Karan Johar has decided not to cast Kartik in any of the films produced by Dharma. His constant delays and unprofessional approach has made Dharma apathetic towards him. 
Netizens in large numbers including the 'Queen' actor Kangana Ranaut smell foul nepotism in this matter. Kangana in her social media statement lashed at Karan Johar and said that Kartik has come so far on his own. She further said that Karan and his nepotism team should leave him alone and not force him to commit suicide like Sushant Singh Rajput.    

Click Here for More Bollywood News
Kartik Aaryan
Dostana 2
Dharma Productions
creative differences
Covid 19 outbreak
Karan Johar
Kangana Ranaut