Kulwant in Choti Sardarni could lose eyesight
Desperate Kulwant tries to set the house on fire and is found in a dire condition with the possibility of losing her eyesight in Choti Sardarni.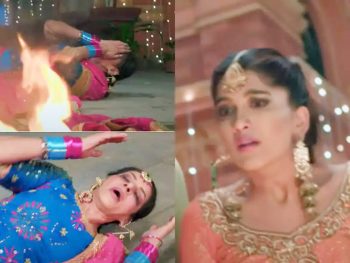 Choti Sardarni is full of complications. Sarab and Meher romance each other, declaring undying love for each other. They dance and sing as heroes and heroines in Hindi movies and serials are supposed to do. Even Param enjoys dancing with Karan with Amrita and Jagga joining them in the fun.
However, things are not going well for Kulwant. She is seen pouring kerosene on furniture in preparation to light a bonfire in her house. She will not let Amrita and Meher overpower her. In the meanwhile, something hits her hard on the head and she falls down in a faint even as the furniture starts to burn. Meher and Jagga rush to the house along with Amrita only to find Kulwant in danger. Kulwant complains that she cannot see anything and blames Amrita for her sorry state. Jagga asks Amrita to leave the house as he calls for a doctor. The doctor duly arrives, checks and states that Kulwant's condition is serious and that she could lose her eyesight.
Jagga, in turn, blames Meher for Kulwant's condition. Meher objects, stating that Kulwant is her mother whom she loves so how can she be blamed. She states that Kulwant and her ego are to blame. The fault, she says, lies in the coaching center, which they should never have started. So, while Kulwant stares sightlessly at a bleak future, the others are hotly engaged in playing the blame game. Now is the time for the Gods to intervene and, in the next episode, restore her eyesight.
Click Here for More
Kulwant
Choti Sardarni
Param
Karan
Amrita
Jagga
Meher
Hindi movies