Legendary Actor and Playwright Girish Karnad Passes Away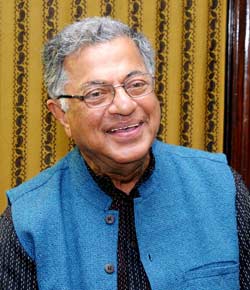 Veteran Indian actor, director, playwright, and activist Girish Karnad died on June 10 in Bengaluru. He was being treated for prolonged illness and passed away due to multiple organ failure. The 81-year-old actor is known for bringing in the age of modern Indian playwriting in Kannada in the 1960s.
Karnad made his acting debut in a Kannada movie Samskara (1970). He has worked in many amazing parallel cinema movies in multiple languages. His work includes Hindi films such as Nishaant (1975), Manthan (1976), Swami (1977), Pukar (2000), Iqbal (2005), Dor (2006), Ek Tha Tiger (2012) and Tiger Zinda Hai (2017).
He made his directorial debut in 1971 with Kannada film Vamsha Vriksha. The film won two National Film Award, one for Best Direction and other for Best Feature Film in Kannada. He also directed the Hindi movie Utsav (1984), starring Rekha, Shashi Kapoor, Amjad Khan, Shankar Nag, and Shekhar Suman.
The legendary actor-director also worked on the small screen. He played a pivotal role in the TV series Malgudi Days, which was based on R.K. Narayan's books. He also hosted a science magazine show on Doordarshan, Turning Point.
Apart from winning various film awards for his acting and direction, he was also honored with a Padma Shri (1974) and Padma Bhushan (1992) by the Indian Government. He also won various awards for his contribution to literature and theatre, including Jnanapith Award (1998), Sahitya Academy award (1994), and Kalidas Samman (1998).
Other Bollywood News
Girish Karnad
Samskara
Nishaant
Manthan
Swami
Pukar
Iqbal
Dor
Ek Tha Tiger
Tiger Zinda Hai
Kannada film Vamsha Vriksha
National Film Award
Utsav
Rekha
Shashi Kapoor
Amjad Khan
Shankar Nag
Shekhar Suman
Malgudi Days
Doordarshan
Turning Point
Padma Shri
Padma Bhushan
Jnanapith Award
Sahitya Academy award
Kalidas Samman