Zeenat Aman Returns with Ashutosh Gowariker's Panipat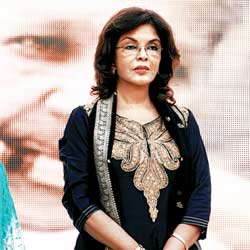 Veteran Bollywood star Zeenat Aman is making a comeback to movies with Ashutosh Gowarikar's period drama Panipat. Gowarikar's magnum opus is one of the most anticipated films of the year and already boasts of a stellar star cast. Panipat stars Arjun Kapoor, Sanjay Dutt, and Kriti Sanon in pivotal roles.
The actress will be playing the role of Sakina Begum, who led the province of Hoshiyarganj, and played an important part in the battle when the Peshwas turned to her for help.
In discussing working with Zeenat Aman, director Ashutosh Gowarikar said, "It is an absolute honour and a fan moment to be directing Zeenatji. There are many many of her films that I have loved and especially her work in them. What is most fascinating about her, is her humility despite all the stardom."
Gowarikar worked with Zeenat Aman as her co-star in Gawaahi (1989). The actress was last seen on-screen in the film Strings of Passion (2014).
The film is based on the third battle of Panipat that took place on January 14, 1761, at Panipat. It is considered to be one of the most eventful and epic battles of the 18th century. The battle was fought between the Maratha Empire, led by Sadashiv Rao Bhau, and the invading forces of the King of Afghanistan, Ahmad Shah Abdali. Arjun is reportedly playing the role of Sadashiv Rao Bhau in the film. Panipat is slated to release on December 6 this year.
Other Bollywood News
Veteran Bollywood star Zeenat Aman
Ashutosh Gowarikar
Panipat
Arjun Kapoor
Sanjay Dutt
Kriti Sanon
Sunil Grover
Sakina Begum
Gawaahi
Strings of Passion
Ahmad Shah Abdali
Sadashiv Rao Bhau