Life is a sport, drink it up By Samir Desai

In 1995, Gatorade launched an advertisement pairing NBA superstar Michael Jordan with the slogan "Life is a sport … drink it up." It turned out to be one of the best advertisements of all time–with its excellent, inspiring message.
Now, if life's a sport, then what are the rules of this sport called life? And where do we find these rules?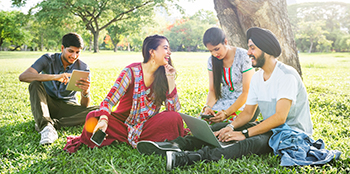 Before we play this sport called life, let's first understand life.
We have grown from a primitive and barbarous society to a more civilized and intelligent society.  Modern science has provided us with nearly heavenly creature comforts. We have been enjoying those comforts as if there is no tomorrow – without any restraint, without any control, and without any limit. So why is it that despite having accumulated mountains of wealth and prosperity to enjoy, so many of us live lives of worry, anxiety, and dissatisfaction?
This sad paradox has been the subject of investigation by the spiritual masters and religions of the world. They have discovered that uncontrolled and excessive involvement in sensual enjoyment changes one's personality and leads to sorrow and misery.
For example, the first helping of a sweet dish is delicious to eat. The second and third serving has a diminishing value. The tenth helping is not only sickening but is harmful to one's health. Thus, our most favorite dish – if we eat without any control and without any restraint – will make us sick.
Hence, the question before us is, 'Is there any way we can enjoy worldly objects and achieve happiness at the same time?'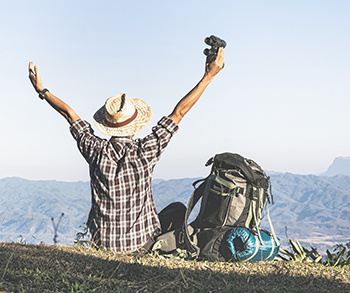 The answer is 'Absolutely, YES!!!' So what must we do? Let's discuss this subject.
Our essential nature is one of absolute freedom, and we resist any shackles being placed on us. We do not relish being told what to do or what not to do. However, we forget a basic fact: True freedom is essentially built on intelligent self-control, self-restraint, and self-discipline.
For example, the stop lights on our roads are unquestionably a restraint laid down by the government on our freedom; however, because of stop lights on roads, because of this restraint, we have meaningful freedom of movement.
Let's consider two more examples.
We have the freedom to use electricity in our house in any manner we choose. However, to benefit from it, we must religiously follow the laws of electricity. Otherwise, the same power can mercilessly destroy us. Thus, because we religiously follow the laws of electricity, we derive our comforts from it.
Let us take an example from sports.
Can we play the game of basketball without observing the rules and regulations of the game? The answer is: 'Absolutely not.' We must follow the rules of the sport we want to play. Similarly, we can enjoy worldly objects and still be happy – provided we follow some restraints or rules of life. Here, we return to the questions we started with: 'What are the rules of this sport called life?' and 'Where do we find these rules?'
Religions provide us precious guidance by which we can intelligently understand and appreciate the necessity for such voluntary self-restraint. Religions will guide us by giving insight into life and will give us rules by which we must play this sport called life.
At the beginning of the article, I quoted the slogan, 'Life is a sport … drink it up.' I want to modify this slogan by saying, 'Life's a sport … play it right. Play it by the rules of religion.'
May the River Ganges be with you.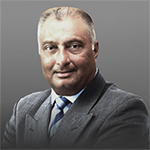 About the Author
Samir (Sam) Desai was with Motorola for more than 34 years. He served as Sr. Vice President & General Manager for iDEN® Networks, managing over six billion dollars' worth of business.
He has a MS in electrical engineering from the Illinois Institute of Technology, Chicago. He also holds an MBA from Loyola University, Chicago. He is known as a management guru who has applied principles from the Bhagavad Gita in the corporate world.
After retiring from Motorola, Sam Desai served as an independent consultant for the Board of Directors of three companies: Larsen & Toubro Infotech, Larsen & Toubro Technology Services,  and Welch Allyn.
NBA superstar Micheal Jordan
Life is a sport
drink it up
barbarous society to a more civilized and intelligent society
enjoying mountains of wealth and prosperity
live a life of worry
anxiety and dissatisfaction
Life is a sport, play it. Play it by the rules of religion
River Ganges
Samir (Sam) Desai
Sr. Vice President & General Manager for iDEN® Networks
electrical engineering
Illinois Institute of Technology
Chicago, Loyola University
Chicago
The Bhagavad Gita in Corporate world
Larsen & Toubro Infotech
Larsen & Toubro Technology Services
Welch Allyn