Three American-Indians in the List of Most Influential Chief Marketing Officers 2021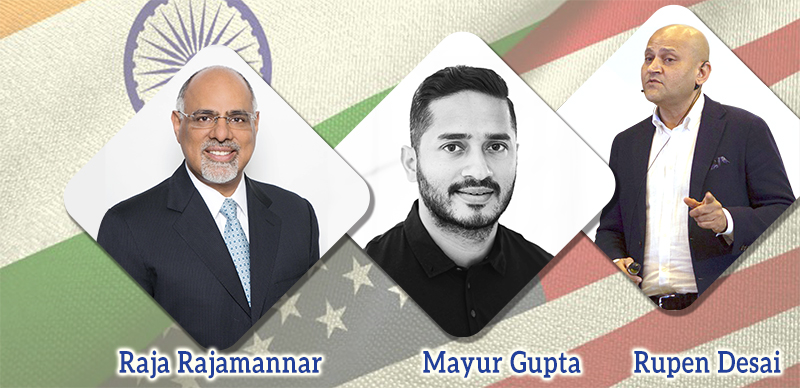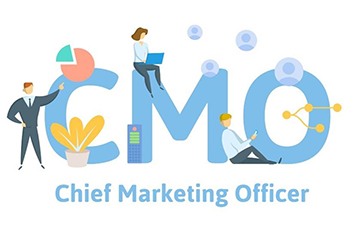 A CMO or Chief Marketing Officer is the anchor of any company because it is the CMO who describes its marketing strategies – playing a pivotal role in making people aware of the brand. Precisely, a CMO is the leader who heads the promotional aspect of a company and whose job it is to create a lasting impression in the minds of people who, in turn, become devoted customers of the products and/or services being promoted.
As the policymaker, the CMO is extremely influential not only within the company but also among the customers. However, to become a successful and truly influential CMO, one should understand the pulse of the market; human behavior and preferences; and, most importantly, the changing approaches with the advancements of  technology over time.
Forbes determines the most influential CMOs based on their achievements and contributions to the consumer market along with their successful promotion of specific products or services. This year, three Indian Americans made it to the list. They are high achievers. Their career track is a clear indicator of their success; and they have certainly made India proud of her sons.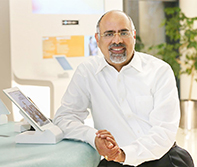 Raja Rajamannar
The CMO of MasterCard, Rajamannar is ranked 4th on the Forbes list. He played a pivotal role in promoting a hitherto unknown concept called 'True Name Credit Card'. It was the first of its kind, in which transgender and nonbinary people can use the name of their own choice (instead of their birth name) on their credit card. The idea was innovative, but difficult to implement as no bank was ready for such a credit card. However, Rajamannar – fully confident as to the feasibility of the idea – went ahead with the concept. In the end, the concept was not only a commercial success but also a humanitarian landmark.
A chemical engineer from Osmania University, with an MBA degree from the Indian Institute of Management (in Bangalore), 58-year-old Rajamannar has more than 25 years of corporate experience. He joined MasterCard in 2013, where he currently serves both as its Chief Marketing & Communications Officer and as the President of its Healthcare Business division. A firm believer of following the technological revolution in creating marketing strategies, Rajamannar authored a book entitled Quantum Marketing (published this year), in which he advocated the need for a changing mindset to keep pace with the ever-changing pace of technology.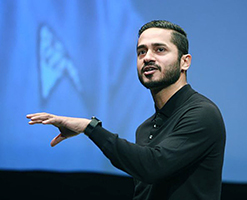 Mayur Gupta 
Ranked 34th in the Forbes list, Mayur Gupta is a young marketing expert with a breadth of experience in product marketing as well as concept marketing. He is the first Chief Marketing and Strategy Officer of Gannett. Before holding this position, he was a member of the company's board of directors. He holds the influential position of Revenue and Content Channels Director for this prestigious mass media company. Gannett, which is in the process of becoming a subscription-based content generator, has entrusted Mayur with the responsibility of revenue generation for USA Today. He also leads revenue generation strategies for different types of content.
Mayur has a great deal of experience in content marketing and revenue generation for companies like Kimberly Clark as well as startups like Spotify and Freshly that has given him a breadth of exposure to the field, within which he has developed excellent marketing and communication skills.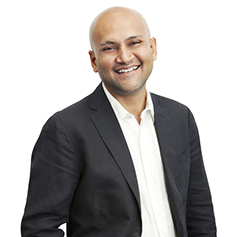 Rupen Desai
The Global Chief Marketing Officer of the Dole Sunshine Company is a firm believer in the conscience economy. He plays a significant role in spreading the message of equality, sustainability, and food security through cooperation. Holding 48th ranking in the Forbes list, he has been playing a positive role in spreading the message of Dole Sunshine through a variety of innovative campaigns. These include finding an alternative to leather – from pineapple leaves.
Rupen Desai has been unconventional, right from the beginning of his career. He followed his gut feeling in making his career choices; and rather than chasing after the usual accoutrements of success, Mr. Desai focused on what made him happy. Bringing the principles of mutual cooperation and equality to bear on his life's work has been – and still is – his life motto. He aspires to build brands and businesses that human conscience can live with.
He founded TS/28 to work with organizations and help them prosper. Before joining Dole, he was Vice-Chairman of Edelman in the Asia Pacific, Middle East, and Africa. His first job was at Mullen Lowe, where he spent two decades. All throughout his career, he has been a great supporter of humanity.
Making India Proud
All three of these Indian American business leaders, despite having different areas of work and varied job profiles, have been extremely dedicated and successful in implementing and pursuing their policies and principles. This has made them great influencers. Their achievements have been acclaimed internationally, making India proud.
Raja Rajamannar
Mayur Gupta
Rupen Desai
CMO of MasterCard
Rajamannar's rank is 4th on the Forbes list
transgender
Nonbinary people
humanitarian landmark
Chemical Engineer
Chief Marketing & Communications Officer and President
Healthcare Business
Chief Marketing and Strategy Officer of Gannett
Mass media Company
Global Chief Marketing Officer
Dole Sunshine Company
Vice-Chairman of Edelman in the Asia Pacific
Mullen Lowe