Make Your Valentine's Day Special

---
by Chahna Tailor Gupta
---
February – the month with a day dedicated to love! This year, Valentine's Day falls on a Monday instead of on the weekend. But that doesn't mean it can't be enjoyed! COVID is a bit rampant right now, and some people may not be comfortable doing things outside. So, here are some fun ideas for a Valentine's Day with a special someone (which can mean just you!):
    Eat!

Check out a cool Ayurvedic recipe on Google or Pinterest and cook up some nice breakfast, brunch/lunch, or dinner. You can even turn it into a picnic by sitting in the backyard or a local park (one that's not too overpopulated)! Or, make a charcuterie board (vegetarians can also have fun with this!) by adding a range of different snacks and treats on a plate.
    Binge watch a show or have a movie day!

Netflix, Hulu, Disney+, HBO Max, Amazon Prime, Peacock, etc. – the streaming world is yours to enjoy! The romantic genre is not the only one up for grabs. Explore something new and interesting!
    Create a spa retreat at home!

If you have a tub, you can fill it up and add some bath salt. Give yourself a massage, or massage your partner. Make a rejuvenating, homemade Ayurvedic face mask or just a simple one with honey, turmeric, and sugar. You can even make cucumber water and throw on some relaxing music via YouTube or Spotify! Don't forget to light some candles!
    Do something creative!

You can paint, make a craft, practice a skill (like sewing), or start a home improvement project! You can even take a virtual yoga or exercise class!
    Have a game day!

There are board games, game apps, video games, card games, and puzzles that can be played by yourself or with others!
    Check out the sunrise, the sunset, and the stars at night!

Connect with nature! Even though this technically is an outdoor activity, it can be done in a safe way by going to the beach and being in an area where there are not a lot of people or by driving to a local park that allows you to isolate. You can also do this from home by looking from your driveway, backyard, patio, or window!
Hopefully some of these ideas sound like something you'd like to try. Even if you end up doing none of them, show yourself some self-love by taking some time to relax!
---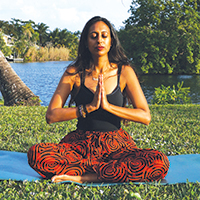 About the Author
Chahna Tailor Gupta is a certified yoga teacher and an Ayurvedic practitioner. With a background in occupational therapy, she delivers corporate wellness programs and personalized at-home sessions where she integrates OT concepts and yoga practices to promote functional mobility and mindfulness. She received her yoga certifications from Akshi Yogashala in Rishikesh in India and Yogi Hari's Ashram in Miramar, FL. She received her Ayurvedic studies credentials from Sampoorna College of Ayurveda in Miami, FL and is continuing her studies there to become an Ayurvedic doctor. She also volunteers for Ekal Vidyalaya Foundation South Florida Chapter, is a volunteer Hindu chaplain for the South Florida community, and is an adjunct professor at International Hindu University. Her mission is to help others implement stress reduction techniques and take more time out for their own self-care.
---