Manoj Bajpayee's Bandaa Set for Streaming on ZEE5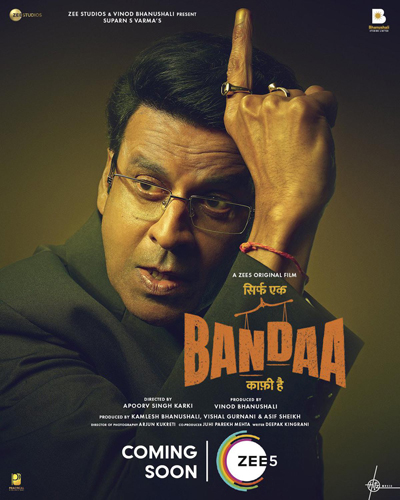 Manoj Bajpayee, hailed as one of Bollywood's most versatile actors, will be seen in Bandaa, a courtroom drama. The film is set for a direct-to-digital premiere on the popular streaming platform, ZEE5.
Inspired by true events, Bandaa is directed by Apoorv Singh Karki, written by Deepak Kingrani, and produced by Vinod Bhanushali's Bhanushali Studios Limited, Zee Studios, and Suparn S. Varma. The announcement was made by the streaming platform on the occasion of Bajpayee's 54th birthday.
Bajpayee, a National Award winner, stated that he is looking forward to this new project after his success with Silence. Can you hear it? And dial 100. "We are now bringing a captivating story to life that deserves all the attention, and I can't wait for you to join us on this incredible adventure!" said Bajpayee in his statement.
Manish Kalra, Chief Business Officer of ZEE5 India, claimed, "Our next original film, Bandaa, is a power-packed courtroom drama, inspired by the true and shocking events of a legal case. It is the courageous story of one man's fight against all odds for truth and justice, and it's emotionally moving and inspiring. We look forward to its release on ZEE5 soon."