Hema Malini as Durga – A Review By Anita Rao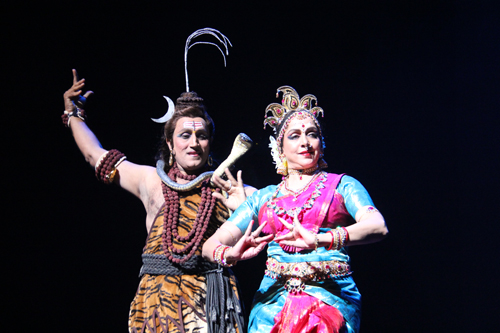 Hema Malini, Bollywood's 'Dream Girl,' took audiences on a mythological journey in the dance ballet Durga at the Coral Springs Center for the Arts on June 22 sponsored by Sham Chhabria and South Florida Hindu Temple. Supported by a group of 25 male and female dancers, Malini, a classical dancer of international fame, entertained the audience with her grace, talent, beauty and a mesmerizing performance as Sati, Parvati, and Durga.
Flawless stage and light management, dazzling costumes, best lyrics and music by Ravindra Jain, and the glamour of the dream girl of the Hindi cinema make the ballet an artistic treat. It is like watching a mythological film live on stage!
Durga, the dance ballet with lyrics by Ravindra Jain, included dialogues in Hindi and Sanskrit and a large mythological canvas that appeals to all sections of the audience. The ballet with pre-recorded music was like a live mythological film. It did not represent any particular genre of classical dance.
The main character, Sati/ Parvati /Durga is portrayed by Hema Malini and her divine consort Shiva (Madhavapeddi Murthy) performed in a Kuchipudi format, a group of female dancers relied on Bharatanatyam for their footwork and gestures, and a set of male dancers showed a slight leaning towards Kathakali and with dash of Kathak too.
The dance drama adopted from Devi Bhagavatam and other Puranic lore comprised of three major episodes: Sati and Shiva; Sati reborn as Parvati; and later, the manifestation of Durga to demon Mahishasura. The ballet is very picturesque with the backdrops lending a depth to the scenes as they changed from the Himalayas to the kingdom of the demon, to Durga seated on the lion, the lotus formation with props. Throughout, the entire presentation was very exciting.
Certain episodes, viewed from an aesthetic angle are worth a mention such as the scene where Sati enters the fire, incensed by her father's action. The backdrop creating an illusory picture of flames was brought into focus by plunging the stage into darkness steadily so we could feel Sati being consumed by flames. Other instances of visual impact include the scene where Shiva sits down in tapas in an alcove in the Himalayas (again the backdrop screen) and the last picture of the mother Goddess astride the lion with a halo and different weapons of war in her hands – both were very impressive.
After a long time, the Indian community in South Florida has enjoyed such quality programming.
Photos Courtesy:
Beez Photo & Video
954-496-5555
www.beezphotoandvideo.com