Meera – A Magical Theatrical Experience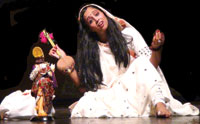 Every one of us has heard the story of legendary Meerabai who was a Rajput princess, poetess and devotee of Lord Krishna in the 15th century. You may have even seen Gulzar's movie Meera starring Hema Malini, and certainly we all have heard devotional songs (bhajans) about Meerabai sung by countless singers. But we have not seen a dance drama in Gujarati depicting the life story of this great saint until now.
Featuring a cast of over 60 performers of all ages, the dance drama Meera is a production of U.K based Subrang Arts. They came to the USA for a few days by special invitation and performed only two shows – one in Atlanta and the other in Greenville. The Atlanta show was organized by Gujarati Cultural Association of North America (GCANA), a newly formed organization of zealous Gujaratis in the Atlanta area. The dance drama was performed in the presence of a packed audience at the Gwinnett Performing Arts Center on the eve of July 22, 2011.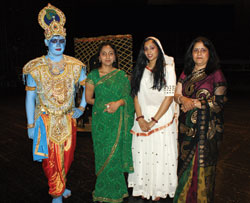 Although Meera's life seems simple, she is an enigmatic character. She never preached, nor established any cult. Nonetheless, her life is an unwritten statement against age-old traditions. These qualities have attracted artists from different disciplines to recreate her life, sometimes through her songs, and at other times through dance dramas and films. Each has tried to resurrect Meera's utmost devotion to Lord Krishna.
An extravagant array of glittering costumes, colorful acts and melodious music.
Meera – A Magical Theatrical Experience