Meera weds Nehal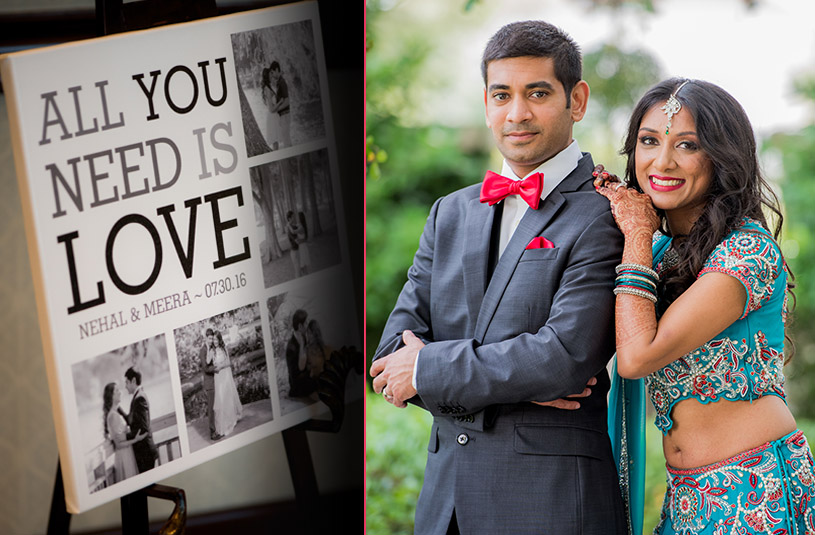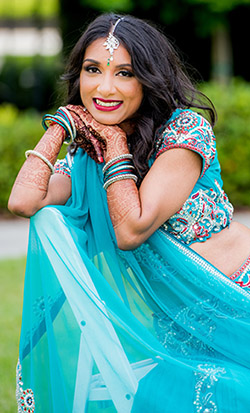 Meera and Nehal's consider their romance to be a "city girl meets country boy" kind of love story. The two met in 2014, and began a dating tradition of having spontaneous adventures across Florida, Meera's home state. A mid-westerner, Nehal experienced places like Cocoa Beach, Universal Studios, and St. Augustine with Meera, and he chose to incorporate their tradition into his surprise proposal. They planned a trip to Friendship Fountain, a famous Florida landmark, and Nehal gave Meera the surprise of her life when he got down on one knee. The couple was excited to continue their journey together and prepare for an unforgettable wedding.

Meera hired a coordinator for the wedding day, but did most of the planning on her own. She was relieved to have a coordinator and a team to help with the last-minute details and typical wedding day chaos, because it helped her and her guests to enjoy the special day without any hassle. The couple chose a venue near Meera's home, The Palmetto Club, because it offered not only a ballroom, but also a beautiful veranda and garden.

Before the big day, they held several pre-wedding events in Oklahoma, Nehal's home state. The Vidhi/Pithi was followed by a family dinner, and a henna night at home.
The Sangeet was held in Florida on the night before the wedding. The ceremony began in the early morning, with lively bhangra music announcing the entrance of the Baraat, complete with a Hummer limousine. The music transitioned into traditional Hindi wedding songs, and Meera entered to a beautiful instrumental piece from the Bollywood movie Jodha Akbhar.

The wedding venue was decorated in maroon, white, and gold, embellished with crystals, pearl columns around the mandap, and red and white rose centerpieces. Meera and Nehal chose to close off a section of the ballroom to accommodate a more intimate, theater-style seating arrangement for their guests.

Following the ceremony, the venue was transformed for the reception, with a new color scheme of teal, maroon, gold, and silver. The centerpieces were a pleasant surprise for the couple, because they allowed their designer to have free reign, and they were impressed with every detail of his finished work.

Each centerpiece features a gold candle vase draped in crystals and adorned with blue orchids and vases lit with LED lighting and glowing water. They were the perfect complement to the teal backdrop and gold drapes hung around the room, and set a lovely mood for the celebration.
Their DJ played a combination of Hindi, Pujabi, Bhnagra, and American music, to please all of their guests, and everyone danced throughout the night. The reception even included three choreographed dances by the bride's friends and family, and also Nehal's cousins who did a surprising and unique performance using jump ropes.

Meera and Nehal's wedding went off without a hitch, and the couple is so grateful for the support of not only their loving friends and family, but the designers and event coordinators who helped make their special day unforgettable.
Photos Courtesy
Sona Photography
407-694-6032
www.sonaphotography.com
Photos Courtesy
BANQUET HALLS
The Palmetto Club
www.thepalmettoclub.com
407-398-6308
JEWELERS
Myyraa
732-218-8407
BEAUTICIANS/COSMETICIAN
Michele Renee Hair & Makeup Artist Grp
www.michelereneehairandmakeup.com
813-531-7770
MEHNDI
Alisha The Henna Lady
alishaladha@gmail.com
813-407-1202
BOUTIQUES
Om the Origin
732-404-1445
PHOTOGRAPHER
Sona Photography
www.sonaphotography.com
407-694-6032
DECORATOR
Maharani Designs
maharanidesignz@gmail.com
813-569-9052
PRIEST/WORSHIP SERVICES
Pandit Rajan Bhatt
813-900-0190
DISC JOCKEY
Blazin DJs
813-569-9052
RENTAL SERVICES
Taylor Rental
813-685-4551
ENTERTAINMENT
Mobile Baraat
813-569-9052
RESTAURANT/CATERING
Puff n Stuff Catering & Events
lucille@puffnstuff.com
813-657-0062
FLORIST
Flowers By Hina Patel
941-524-9807
VIDEOGRAPHY
Riant Films
www.riantfilms.com
407-603-6955
WEDDING SERVICES
Instyle Events
www.instyleeventservices.com
832-819-1427