Message from ONGARA ASHRAM (Pondicherry, India)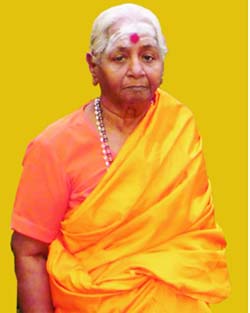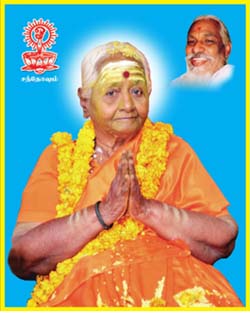 Pujyasri Thuravi Latchoumi Bayi, a senior monk belonging to ONGARA ASHRAM (Pondicherry) attained Mahasamadhi on 25th July 2018 at Korattur, Chennai.
Born on 21st March 1934 in Pondicherry, she became the first disciple of Swamy Ongaranandha – Chief Pontiff of Ongara Ashram and a great Siddha purusha.
ONGARA ASHRAM, founded in 1960 by Para Brahma Sadguru Om Sri Siddhar Swamigal, is a spiritual organization with a universal objective of affording happiness and peace to all living beings on earth. The ashram has been promoting the principles of truth, righteousness and justice, led by his chief disciple Swamy Ongaranandha.
Born in an affluent family of Vysial merchants to Grande Sivasamba Chettiar and Krishnaveni ammal, Thuravi Latchoumi Bayi was a foremost exponent of Carnatic music and a music teacher in Pondicherry Government School for over 35 years.
She was a life-long 'Sakthi Upasaka' and a realized saint. She handled the administrative and financial responsibilities of Ongara Ashram diligently for over 50 years. She constantly strived towards feeding and distributing clothes to millions of people and prayed for Universal peace and ever-lasting happiness for all living beings.
She has traversed the length and breadth of this great country, on spiritual pilgrimages more than 100 times. She constantly performs Maheshwara Pooja – feeding and taking care of Saadhus and Sanyasis.
She has also traveled around the globe to countries like the USA, UK, France, Italy, Netherlands, Belgium, Malaysia and Singapore to spread the message of Truth, Righteousness, Justice and Divine love. She believed that it is saints and seers who protect this world and ensure balance.
A biography of Pujyasri Thuravi Latchoumi Bayi authored by His Holiness Swamy Ongaranandha, entitled "Chithiram Pesuthadi Sivathai Solluthadi" was released as a voluminous treatise running into over 700 pages recently.
May the great saint bless all of us so that everyone in this world lives in peace and happiness!
A shrine for Pujyasri Thuravi Latchoumi Bayi is coming up on her samadhi at Ongara Ashram's Maha-Kailayam, Manjakuzhi village near Parangipettai, Cuddalore district, Tamil Nadu.