Modi's words the great source of energy: Anupam Kher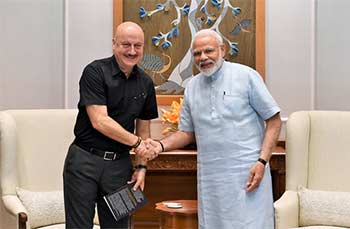 Veteran actor Anupam Kher took to Twitter to thank PM Narendra Modi and share some glimpse of his meeting with the PM. The actor is all praises for the PM in his recent post on Twitter.
"Dear Prime Minister Narendra Modiji, it was an honor and a privilege to meet you. Your vision for India is greatly reassuring and heartwarming. Your inspirational words will always be a great source of energy for me. May you continue to take our country to greater heights," Anupam wrote on his twitter handle while sharing pics of him and PM Modi shaking hands and engaged in a conversation in the other one.
Anupam Kher is a husband to Kirron Kher, an actor turned politician and MP from Chandigarh. She had defeated Congress biggie Pawan Kumar Bansal with a margin of 39,000 votes, straight for the second time in the Lok Sabha elections. Though this margin is very less than 2014 elections which were of 70,000 votes.
A few time ago Anupam Kher also visited Arun Jaitley, former Finance minister's residence tenquire about his health.
Kher, 64, is busy promoting his upcoming film "One day, justice delivered" nowadays. The film will also see Esha Gupta, Kumud Mishra, Zarina Wahab, Zakir Hussain, Rajesh Sharma, and Murli Sharma as the Star cast.
Anupam Kher
PM Narendra Modi
Kirron Kher
actor turned politician and MP from Chandigarh
Pawan Kumar Bansal
Lok Sabha elections
Finance minister
One day, justice delivered
Esha Gupta
Kumud Mishra
Zarina Wahab
Zakir Hussain
Rajesh Sharma
Murli Sharma