Must Read Books January 2021
Want to share a great read?
Email your suggestions to info@deshvidesh.com
---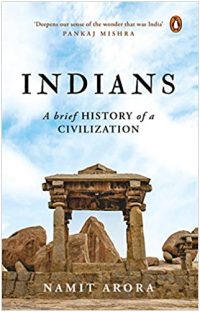 Indians: A Brief History of a Civilization
by Namit Arora
Indian civilization is an idea, a reality, an enigma. In this riveting book, Namit Arora takes us on an unforgettable journey through 5000 years of history, reimagining in rich detail the social and cultural moorings of Indians through the ages. Drawing on credible sources, he discovers what inspired and shaped them: their political upheavals and rivalries, customs and vocations, and a variety of unusual festivals. Arora makes a stop at six iconic places-the Harappan city of Dholavira, the Ikshvaku capital at Nagarjunakonda, the Buddhist centre of learning at Nalanda, enigmatic Khajuraho, Vijayanagar at Hampi, and Varanasi-enlivening the narrative with vivid descriptions, local stories and evocative photographs. Punctuating this are chronicles of famous travellers who visited India-including Megasthenes, Xuanzang, Alberuni and Marco Polo-whose dramatic and idiosyncratic tales conceal surprising insights about our land.
In lucid, elegant prose, Arora explores the exciting churn of ideas, beliefs and values of our ancestors through millennia-some continue to shape modern India, while others have been lost forever. An original, deeply engaging and extensively researched work, Indians illuminates a range of histories coursing through our veins.
Namit Arora worked in the Internet industry before choosing a life of reading and writing. He is the author of The Lottery of Birth, a collection of essays, and the novel A California Story. For more information visit shunya.net.
---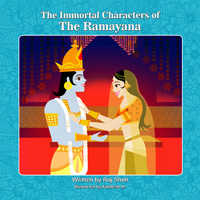 The Immortal Characters of The Ramayana
by Raj Shah
The Ramayana is among the greatest of Hindu epics. However, it is also a wonderful story for all hildren as it is interesting and filled with events, and also has plenty of lessons to teach. In keeping with the times and the trends of the millennium, we bring the story of Rama in a simplified form for children to understand, presented as the Immortal Characters the most important moments of the story.
---
Sovereign Self: Claim Your Inner Joy and Freedom with the Empowering Wisdom of the Vedas, Upanishads, and Bhagavad Gita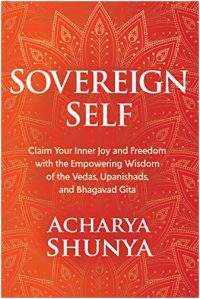 There's a reason that the Vedas, a 5,000-year-old collection of celebrated verses from ancient India, have given rise to several world religions and influenced Western thinkers from Emerson to Ram Dass—they provide us with a uniquely accessible and effective path to liberation and sovereignty.
With Sovereign Self, Acharya Shunya shares a groundbreaking guide to the wisdom of these classic texts so that each of us may emancipate ourselves from restrictive belief systems and discover our true nature—that which is always whole, joyful, and free.
As the first female lineage holder in a 2,000-year-old line of spiritual teachers, Shunya provides a rare opportunity to receive these authentic teachings from a genuine Vedic master—one with a distinctly down-to-earth, feminine flavor who never lets us forget that our humanity is to be embodied and enjoyed.
Throughout Sovereign Self, Shunya adeptly guides us through the core concepts and practices of the Vedas, demystifying and contextualizing sacred concepts for modern life. In this masterful guide, you'll explore:
Beginning the journey to radical self-acceptance—recognize your innate worth and wholeness
How we create our own prisons of shame, compulsion, blame, and obsession—and how you can begin to break free
Learning to embody personal autonomy in your life and relationships
Clear advice from a Vedic master for avoiding countless obstacles on the path to liberation—from spiritual bypassing to the true meaning of guru
Original meditations and contemplative practices taken directly from Shunya's 2000-year-old lineage
How to wake up from being a "sleepwalker" and find authentic freedom, everlasting joy, and unshakable sovereignty
Filled with hidden insights and engaging guidance, Sovereign Self will help you awaken and recognize your potential to be joyful, resourceful, abundant, limitlessly expansive, and sovereign.
Acharya Shunya is an internationally recognized spiritual teacher who awakens health and consciousness through Ayurveda lifestyle and Vedic spiritual teachings. She is founder of Vedika Global, a wisdom school and spiritual community in California, and is President of the California Association of Ayurvedic Medicine. For more, visit acharyashunya.com.
Indians: A Brief History of a Civilization
Namit Arora
The Immortal Characters of The Ramayana
Raj Shah
Sovereign Self
Wisdom of the Vedas
Upanishads
Acharya Shunya Bhagavad Gita