Must Read Books
The Other One Percent: Indians in America (Modern South Asia)


by Sanjoy Chakravorty, Devesh Kapur and Nirvikar Singh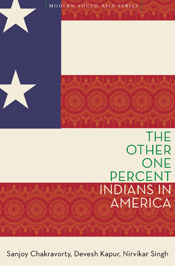 One of the most remarkable stories of immigration in the last half century is that of Indians to the United States. People of Indian origin make up a little over one percent of the American population now, up from barely half a percent at the turn of the millennium. Not only has its recent growth been extraordinary, but this population from a developing nation with low human capital is now the most-educated and highest-income group in the world's most advanced nation.
The Other One Percent is a careful, data-driven, and comprehensive account of the three core processes-selection, assimilation, and entrepreneurship-that have led to this rapid rise. This unique phenomenon is driven by-and, in turn, has influenced-wide-ranging changes, especially the on-going revolution in information technology and its impact on economic globalization, immigration policies in the U.S., higher education policies in India, and foreign policies of both nations.
Becoming American, Being Indian: An Immigrant Community in New York City

By Madhulika S. Khandelwal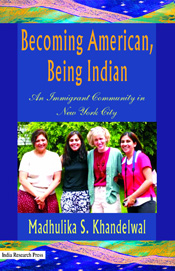 Since the 1960s the number of Indian immigrants and their descendants living in the United States has grown dramatically. During the same period, the makeup of this community has also changed—the highly educated professional elite who came to this country from the subcontinent in the 1960s has given way to a population encompassing many from the working and middle classes. In her fascinating account of Indian immigrants in New York City, Madhulika S. Khandelwal explores the ways in which their world has evolved over four decades.
How did this highly diverse ethnic group form an identity and community? Drawing on her extensive interviews with immigrants, Khandelwal examines the transplanting of Indian culture onto the Manhattan and Queens landscapes. She considers festivals and media, food and dress, religious activities of followers of different faiths, work and class, gender and generational differences, and the emergence of a variety of associations.
The Immigrant: A Novel

by Manju Kapur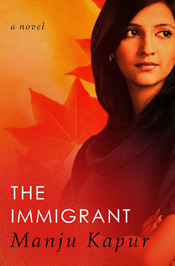 In a world of rapidly changing values and traditions, an Indian woman enters into an arranged marriage to a man she barely knows and moves to distant Canada.
Thirty-year-old Nina is an English teacher living alone in Jangpura, India. With diminishing prospects, she agrees to an arranged union. Her groom is the Indian-born Ananda, who lives in Canada. He once dreamed of becoming a doctor but settled for dentistry. He is lonely, and also in want of a spouse.
Their life together is not what either expected. Unable to find work teaching in Nova Scotia, Nina takes a job at the local library. Ananda is troubled by his own response to the sexual aspects of their relationship. Assimilating into a new culture pales in comparison to the trials of marriage—its ups and downs, its inevitable compromises . . . and the temptations of illicit passion.
Love, Loss, and What We Ate: A Memoir

By Padma Lakshmi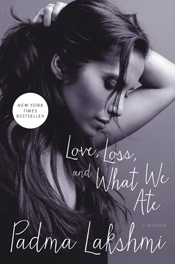 A vivid memoir of food and family, survival and triumph, Love, Loss, and What We Ate traces the arc of Padma Lakshmi's unlikely path from an immigrant childhood to a complicated life in front of the camera—a tantalizing blend of Ruth Reichl's Tender at the Bone and Nora Ephron's Heartburn.
Long before Padma Lakshmi ever stepped onto a television set, she learned that how we eat is an extension of how we love, how we comfort, how we forge a sense of home—and how we taste the world as we navigate our way through it. Shuttling between continents as a child, she lived a life of dislocation that would become habit as an adult, never quite at home in the world. And yet, through all her travels, her favorite food remained the simple rice she first ate sitting on the cool floor of her grandmother's kitchen in South India.
Poignant and surprising, Love, Loss, and What We Ate is Lakshmi's extraordinary account of her journey from that humble kitchen, ruled by ferocious and unforgettable women, to the judges' table of Top Chef and beyond. It chronicles the fierce devotion of the remarkable people who shaped her along the way, from her headstrong mother who flouted conservative Indian convention to make a life in New York, to her Brahmin grandfather—a brilliant engineer with an irrepressible sweet tooth—to the man seemingly wrong for her in every way who proved to be her truest ally.
Namasté America: Indian Immigrants in an American Metropolis

by Padma Rangaswamy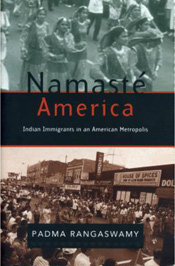 At some point during the 1990s, the size of the Asian Indian population in the United States surpassed the one million mark. Today's Indians in America are a diverse group. They come from every state in India as well as from around the globe: England, Canada, South Africa, Tanzania, Fiji, Guyana, and Trinidad. They also belong to many religious faiths, including Hinduism, Islam, Sikhism, Jainism, Christianity, and Zoroastrianism. Many have high professional skills and are fluent in English and familiar with Western culture. They have settled throughout the United States, largely in metropolitan areas. Namasté America tells this story of Indian immigrants in America, focusing on one of the largest communities found in Chicago.