Must Read Books

Aru Shah and the End of Time
By Roshani Chokshi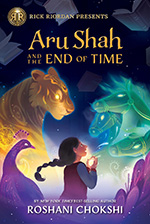 Best-selling author Rick Riordan introduces this adventure by Roshani Chokshi about twelve-year-old Aru Shah, who has a tendency to stretch the truth in order to fit in at school. While her classmates are jetting off to family vacations in exotic locales, she'll be spending her autumn break at home, in the Museum of Ancient Indian Art and Culture, waiting for her mom to return from her latest archeological trip. Is it any wonder that Aru makes up stories about being royalty, traveling to Paris, and having a chauffeur?
One day, three schoolmates show up at Aru's doorstep to catch her in a lie. They don't believe her claim that the museum's Lamp of Bharata is cursed, and they dare Aru to prove it. Just a quick light, Aru thinks. Then she can get herself out of this mess and never ever fib again.
But lighting the lamp has dire consequences. She unwittingly frees the Sleeper, an ancient demon whose duty it is to awaken the God of Destruction. Her classmates and beloved mother are frozen in time, and it's up to Aru to save them.
The only way to stop the demon is to find the reincarnations of the five legendary Pandava brothers, protagonists of the Hindu epic poem, the Mahabharata, and journey through the Kingdom of Death. But how is one girl in Spider-Man pajamas supposed to do all that?
Warlight
by Michael Ondaatje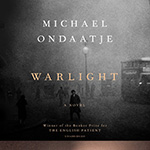 From the internationally acclaimed, best-selling author of The English Patient: a mesmerizing new novel that tells a dramatic story set in the decade after World War II through the lives of a small group of unexpected characters and two teenagers whose lives are indelibly shaped by their unwitting involvement.
In a narrative as beguiling and mysterious as memory itself–shadowed and luminous at once-we read the story of fourteen-year-old Nathaniel, and his older sister, Rachel. In 1945, just after World War II, they stay behind in London when their parents move to Singapore, leaving them in the care of a mysterious figure named The Moth. They suspect he might be a criminal, and they grow both more convinced and less concerned as they come to know his eccentric crew of friends: men and women joined by a shared history of unspecified service during the war, all of whom seem, in some way, determined now to protect, and educate (in rather unusual ways) Rachel and Nathaniel. But are they really what and who they claim to be? And what does it mean when the siblings' mother returns after months of silence without their father, explaining nothing, excusing nothing? A dozen years later, Nathaniel begins to uncover all that he didn't know and understand in that time, and it is this journey-through facts, recollection, and imagination-that he narrates in this masterwork from one of the great writers of our time.
Swimmer Among the Stars
by Kanishk Tharoor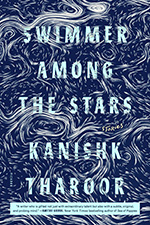 In one of the singularly imaginative stories from Kanishk Tharoor's Swimmer Among the Stars, despondent diplomats entertain themselves by playing table tennis in zero gravity―for after rising seas destroy Manhattan, the United Nations moves to an orbiting space hotel. In other tales, a team of anthropologists treks to a remote village to record a language's last surviving speaker intoning her native tongue; an elephant and his driver cross the ocean to meet the whims of a Moroccan princess; and Genghis Khan's marauding army steadily approaches an unnamed city's walls.
With exuberant originality and startling vision, Tharoor cuts against the grain of literary convention, drawing equally from ancient history and current events. His world-spanning stories speak to contemporary challenges of environmental collapse and cultural appropriation, but also to the workings of legend and their timeless human truths. Whether refashioning the romances of Alexander the Great or confronting the plight of today's refugees, Tharoor writes with distinctive insight and remarkable assurance. Swimmer Among the Stars announces the arrival of a vital, enchanting talent.