MyShadi Bridal Expo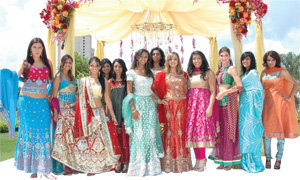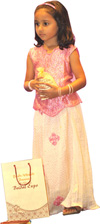 Desh-Videsh and MyShadi did it again! An exhibit hall adorned sleek, modern mandaps and glittering with dazzling jewels and clothing was the site of the MyShadi Bridal Expo held on September 12 at the Hilton Orlando Hotel. Future brides, grooms, and their families perused over 100 vendor booths during the Expo looking for wedding planning ideas and tasting food samples.
Dipti Gupta, a bride-to-be, made a unique observation after looking at the vast variety of booths from hotels. She commented, "I was really excited to see that all venue companies gave colorful Indian touches to their booth in comparison to some of the American shows where the venues have simple tables and back drops with a picture of their hotel."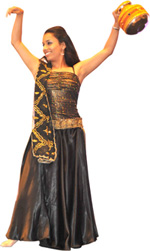 For future brides, grooms, and their respective families, the Bridal Expo was a one stop shop to peruse anything and everything one would need for a dream South Asian wedding. From banquet halls, event planners, and decorators, to DJs, photographer/videographers, and a photo booth renter. There were also estheticians, wedding invitation printers, jewelers, clothing boutiques, and even a horse & carriage vendor. Caterers and cake artists offered scrumptious, mouth-watering samples to brides and grooms to give them a taste of their wedding fare. Every guest went home with a goodie bag filled with gifts, the latest wedding issue of Desh Videsh, as well as a MyShadi Bridal Expo souvenir booklet listing detailed contact information for each vendor.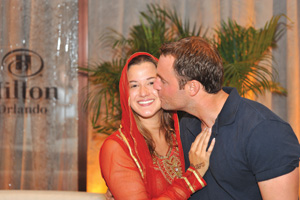 For the vendors, the Bridal Expo was the place to be to get tremendous exposure with direct access to brides and grooms. Vendors had the opportunity to meet face-to-face with potential customers and establish definite leads. Several vendors even went home with signed contracts for their services.
In keeping with the tradition of introducing something new at every show, this year's Expo featured a reception table competition. Participating vendors were asked to decorate a 72-inch round reception table. The three judges (Pallavi Gupta, Interior Decorator; Anju Thaker, Beautician; and Trisha Chaganala, Dance Choreographer/Instructor) evaluated each table on creativity and originality. Bridal Expo attendees also rated their favorite tables. The judges and attendees voted for these winning vendors:
First place – Greenway Productions
Second place – Anand Wedding Services
Third place – Raining Roses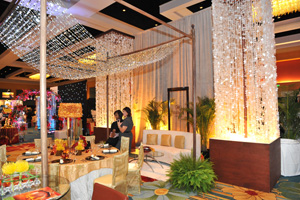 One of the highlights of the afternoon was the entertainment segment. Two fabulous fashion shows showcased the hottest trends in bridal wear and grooms wear. Under the direction and choreography of Rosanna Barsati and Faiza from Le Trend, gorgeous models strutted their stuff in exquisite apparel and breathtaking jewelry provided by Le Trend Boutique, Vulcal Boutique, and Ginni's Bou tique. The audience was further dazzled by two Bollywood style dance performances by Trisha Chaganlala from Ameya Design and Seema from Diya International.
During the entertainment segment, attendees lined up for their chance to catch a batavo filled with candies to win one of several door prizes generously donated by several vendors. The grand prize drawing was a free honeymoon trip to India.
MyShadi Bridal Expo