A Vegetarian – way of life in The US
Garden salad … caprese pasta … veggie wrap… tofu eggplant … panang curry with vegetables… these dishes might sound familiar to vegetarians who like dining out often. I visited the farmers market in Los Angeles last month and was overwhelmed and excited at the same time with the amount of food that surrounded me. Food has always been a strong passion for my husband and me, and we both enjoy and love food from all parts of the world. This market was like an international food mecca and inspired me to find an avenue where I could write about my various food-related experiences. My blog, Cook and Click, is a platform where I get to explore various food related subjects including vegetarianism.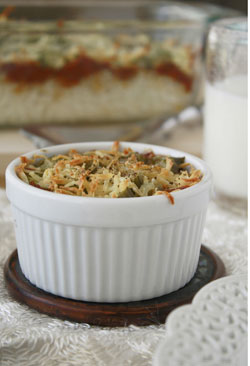 I have always been a vegetarian and growing up in India I had no problem with the lifestyle. In fact, I ate a vast variety of vegetarian dishes that were made at home and were available outside. I never felt as if a sacrifice of any sort had to be made to be a vegetarian. I moved to America in 2003 to attend school and lived in the dorms for the first six months. I ate from the cafeteria as it was included in the tuition I paid for the first semester. At that time the only vegetarian option available for me apart from raw salad was hummus and pita and corn on the cob. Somehow, I survived the first six months of my "American" life eating chickpeas paste with bread! Apart from the only other Indian kid in the school nobody even knew that people could survive on a vegetarian lifestyle. "What? A vegetarian? What do you eat?" During all these years of living in the States, I have met with this usual reaction many times upon revealing my vegetarian identity! Initially it used to shock me that people from a country that is so multicultural don't know much about vegetarianism, but gradually I realized that its because of their lack of exposure towards food that is made out of vegetables.
I welcome this opportunity to promote vegetarianism and share my experiences about good tasting food that does not sacrifice on flavors. I hope to make more and more readers realize that there is more to vegetarian food than just tofu, corn on the cob and imitation meat. And this lifestyle is in no way any less nutritious than eating meat. There is more to vegetarian food than just tofu, corn on the cob and imitation meat. And this lifestyle is in no way any less nutritious than eating meat.
There is more to vegetarian food than just tofu,
corn on the cob and imitation meat.
And this lifestyle is in no way any less nutritious than eating meat.
Here is one of my favorite vegetarian recipes
Paneer Akbari:
Paneer Akbari is a simple recipe that has a unique combination of flavors like okra and cottage cheese. Paneer or cottage cheese is a staple in India and a great option for vegetarians. This dish has a layer of basmati rice covered with a sweet an tangy tomato sauce, topped with okra and grated cottage cheese- baked to perfection. It is a lot like a simplified and deconstructed version of biryani. Since it is very rich in spices, it is good to serve it with raita (yogurt dip) to balance it as a meal!
Ingriedients:
1 medium red onion, chopped
1 big tomato, chopped
2 tablespoons tomato paste
2 teaspoons sugar
2 teaspoons grated ginger Paneer (cottage cheese), grated Okra 20 nos. cut into ringlets ½ cup uncooked basmati rice
Spices:
2 teaspoons cumin powder
1 teaspoon red chili powder
1 teaspoon garam masala
2 teaspoons curry powder
1 teaspoons chaat masala
2 bay leaves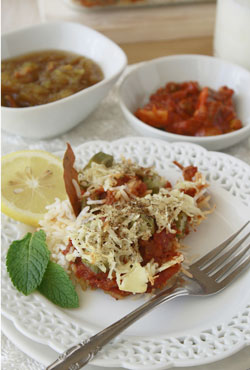 Salt and pepper, to taste Directions: 1. Cook rice with the bay leaves in a rice cooker or in a pan. 2. Saute onions in some oil- I always use olive oil, but feel free to use canola or any other vegetable oil. Once the onions start to turn transparent, add the ginger, cumin powder and red chili powder and stir for another minute. Add the chopped tomatoes, salt and sugar. Cover and cook until it starts turning into a sauce-like consistency, approximately 3 minutes. Add the tomato paste and the rest of the spices and cook for another minute or two. Add a little water if the sauce starts to get a bit too thick. 3. In a baking dish put a layer of cooked rice, top it with a layer of the tomato sauce. Put a layer of okra on the tomato sauce and sprinkle some salt and pepper, it is important that you add salt and pepper to the okra at this stage because this is the only chance you will get to season the okra. Sprinkle the grated cottage cheese and sprinkle some more black pepper. 4. Cover and bake in a preheated oven at 300 F for 15 minutes, uncover and bake for another 10 minutes or until the cottage cheese starts getting brown on the top. Take out from the oven, let cool for 10 minutes. Serve with raita, mango chutney and pickle, Enjoy!
For more information, please visit
www.cookandclick.com