Rahat Fateh Ali Khan The Voice That Moves Mankind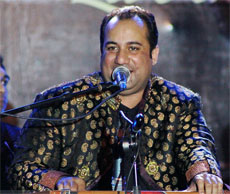 Love has no limits, truth has no confines, and music knows no barriers. These may seem like lofty ideals, but they are standing pillars of life, of which we see, testimonies time and again. While you are wont to find the odd story that defies this view, there are many more etched in our minds to show us enough evidence.
Think back, and perhaps you can remember a time when you stopped to listen to a piece of music despite it being in a language completely alien to you. Such is the power of music –melody, rhythm and devotion are all you need to produce a masterpiece from which no one can stay away. This may be why music is truly the only universal experience that can touch everyone.
Rahat Fateh Ali Khan is one such musician who has transcended boundaries. He has been embraced by Indian cinema with open arms. His voice has moved audiences everywhere, and he has won a place in most hearts.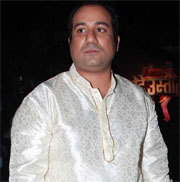 Cynics contend that Rahat Fateh Ali Khan enjoys this platform the fact that he comes from an esteemed family of musicians. Rahat Fateh Ali Khan hails from the town of Faisalabad in Pakistan. The nephew of renowned Qawwali singer Nusrat Fateh Ali Khan, Rahat trained under him in various forms including classical music. He began his career very young, enthralling his first audience when he was only ten years old. Growing in maturity and skill, Rahat honed his art diligently and gained exposure under the tutelage of Nusrat Fateh Ali Khan.
The untimely death of Nusrat Fateh Ali Khan was not just a shock to music lovers overthe world, but also to Rahat and others who performed with him. Stepping into his shoes was no small feat and being able to recreate the magic of Nusrat Fateh Ali Khan proved to be a daunting challenge. However, Rahat did great justice, and in a sense, also grew far beyond his years.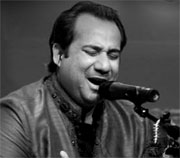 Rahat Fateh Ali Khan regaled with his performances for several years, with Sufi music that brought divinity to the fore and touched the soul. With his stirring renditions and supreme musical abilities, Rahat gained popularity quickly, and then Bollywood beckoned.
After gaining mastery over Qawwali and ghazal, Bollywood may have seemed like a cakewalk considering many compositions lack as much complexity and the need for perfection. However, it was still a tall task. For one, competition was intense and unforgiving. Besides, Rahat came with the knowledge that his uncle brought many timeless hits to the public. Most importantly, there was also the ambivalence of gaining acceptance as a Pakistani. This was not without reason, since there have been instances where Pakistani performers and artists have returned to their country fearing their safety and lacking approval. However, they do constitute a trivial minority, and there are many more stories of Pakistani artists who have embraced the Indian scene and have been accepted as warmly.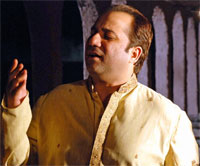 Rahat soon started getting plenty of work, collaborating with some of the freshest, most reputed talent in the country. Ironically, he has not worked merely on intricate, classical songs, but more on songs that have soul. He has been appreciated most for his silken voice, effortless style and depth in music. Classical undertones are bound to be felt in a variety of ways, but lilting melody and rawness in texture have been Rahat's claim to fame. With numerous songs and several albums under his belt, Rahat is clearly here to stay.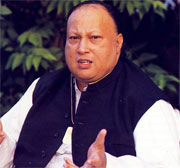 Stardom always comes with a price. First, there was plenty of talk about the secrecy surrounding Rahat's wife and why he never mentioned her. Then there were incidents of tax evasion and carrying excess foreign currency, but these are problems that plague even the common man, and most instances go unnoticed. What has been great is the fact that India has strongly advocated meritocracy, which is why Rahat continues to grow from strength to strength and has made a place for himself in Bollywood.
In the lives that we lead and all that we stand for, many of us aspire to amass wealth, create something, or gain fame. What some people aspire to do is leave a legacy. Rahat Fateh Ali Khan is well on his way to placing the honor of his family on a new pedestal, and supporting the echo of music in his family's hallways.
PME & Paracha Entertainment
Proudly Present

By Great Public Demand

on Saturday, April 14th 2012

Ustad Rahat Fateh Ali Khan
2012 World Tour USA & Canada

At
The Faith Center
(Formerly Known as the sunrise Musical Theatre)
5555 NW 95th Ave, Sunrise, FL 33351
8pm (Doors Open 6pm)

Contacts:
Lubna: 404-964-5227
Soham: 954-746-7740
Victor: 954-394-5661
Moin: 786-306-9350
Rahim: 404-718-0009
Salman: 551-689-4411

Ustad Rahat Fateh Ali Khan Live in Atlanta
When: Friday, MAY 11 2012, 8:30PM

Where: Atlanta Civic Center, 395, Piedmont Ave, NE, Atlanta, GA30308
Contact: 404-718-0009
Hosted by: Paracha Entertainment