Narissa weds Nirmal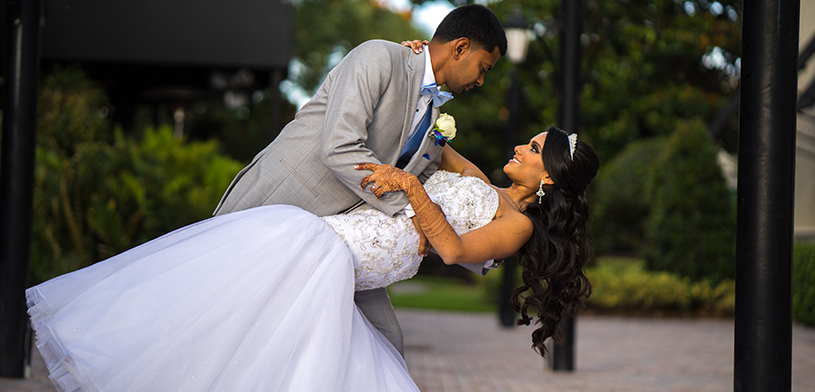 Narissa and Nirmal were friends for several years as University of Central Florida students, while Narissa was also working at a nearby bank. Nirmal cleverly came in to open an account one day, giving him a reason to see Narissa regularly and work up the courage to ask her on a date. Narissa's "yes" turned into a beautiful romance that led up to Nirmal's surprise proposal in the Bahamas.

While vacationing there with friends, the couple discovered a lovely spot on the beach where they could climb out onto the rocks.
Nirmal suddenly pretended to fall on the rocks, but he was disguising his attempt to get down on one knee to ask Narissa the big question.Through the surprised and excited tears, she managed to say "yes", and they were able to celebrate the occasion with their friends during the rest of the cruise.

Their engagement party kicked off the wedding planning, which was going to be a big endeavor because they planned to have 250 guests. Narissa and Nirmal used the help of a wedding planner to secure vendors, and also relied on decorators and caterers on the wedding day.

The couple knew they wanted to be married in their temple in Orlando, because it had personal meaning, and could also accommodate their guest count. The reception venue, a hotel near Narissa's workplace in Lake Mary, was suggested by their wedding planner, and it even included a talented chef who catered the event. Most of their friends and family were locals, but many came from New York, Canada, Trinidad, and Guyana for the big day. Prior to the ceremony, they held a Mehendi night for the bride, and a Haldi night for both bride and groom.

For the ceremony, the mandap was draped in blue, white, and silver, and the aisle was lined with white elephants that complimented the floral arrangements of blue orchids and white carnations. The same color scheme carried over to the cocktail hour and reception décor, with jeweled vases, blue stones, and intricate silver tablecloths.

As a car enthusiast, Nirmal drove a rare Nissan R34 to the ceremony, while the bridal party arrived at the temple in a limousine. Once inside, Narissa walked down the aisle with her parents to a beautiful song from Jodha Akbar. After the ceremony, the reception kicked off with Narissa and Nirmal's favorite dance music, including Soca, Chutney, Tassa drums, and Bollywood songs. The bridal party performed a choreographed routine, and Nirmal's niece and nephew also presented a touching poem about the newlyweds that brought a tear to everyone's eyes. The reception was a lovely mix of celebration and sentimentality, and Narissa and Nirmal have only fond memories of their special day that went off without a hitch.
Photos Courtesy
Fine Art Productions
888-494-7909
www.fineartproductions.net
Photos Courtesy
BANQUET HALLS
Marriott Orlando Lake Mary
407-995-7009
FLORIST
Enchanting Event Designs & Planning
enchantingeventdesigns.com
407-288-0269
Shri Lakshmi Narayan Mandir
capildeo.jadonath@ocps.net
407-341- 9076
JEWELERS
Bombay Bridal Boutique
www.bombaybridal.com
718- 426-0600
BEAUTICIANS/COSMETICIAN
Cristi Miranda 407-361-5745
Shalini Brijmohan 407-325-2775
MEHNDI
Mehndi by Priya Ramdahein
priyar290@yahoo.com
BOUTIQUES
Bombay Bridal Boutique
www.bombaybridal.com
718- 426-0600
PHOTOGRAPHER
Fine Art Productions
www.fineartproductions.net
888-494-7909
CAKE
Cupcake Crazy Factory
www.cupcakecrazy.com
407-804-0229
RENTAL SERVICES
Longwood Events & Rentals
www.longwoodweddings.com 407-339-6344
DECORATOR
Enchanting Event Designs & Planning
enchantingeventdesigns.com
407-288-0269
PRIEST/WORSHIP SERVICES
Shri Lakshmi Narayan Mandir
capildeo.jadonath@ocps.net
407-341- 9076
DISC JOCKEY
DJ Devlish
djdevlish@gmail.com
973-953-9630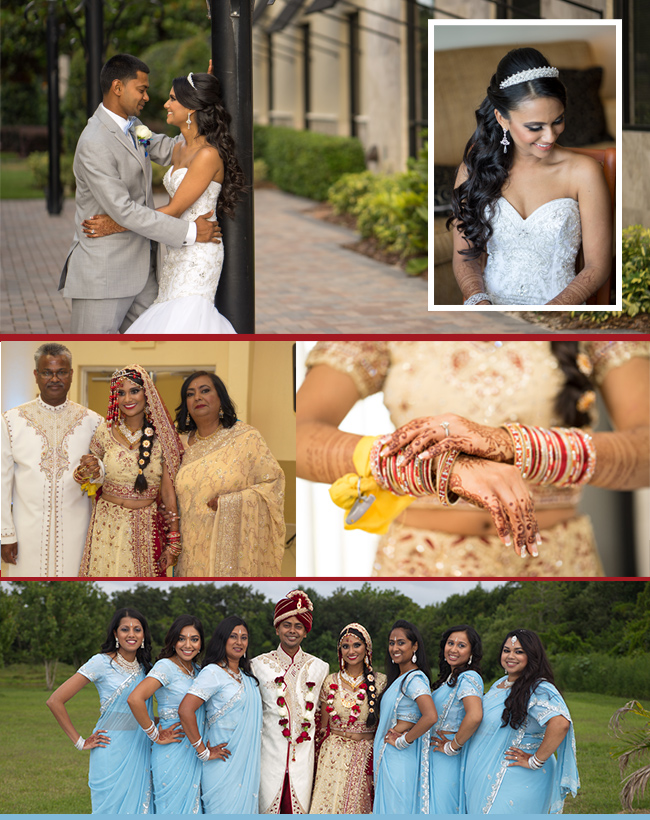 Narissa weds Nirmal