Neha weds Guru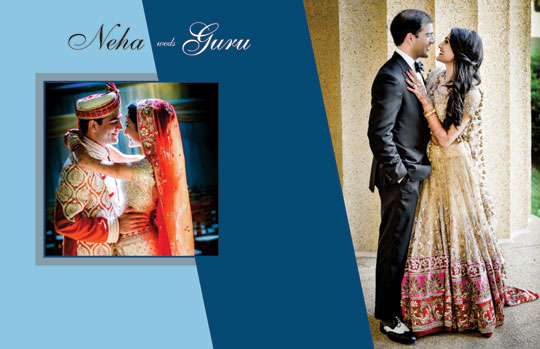 Couples who keep their love alive even after having been together many years have truly found themselves the perfect soul mate. Finding love is rare, and when it is as special as what Guru and Neha share, it is truly unbelievable.
Neha and Guru dated for nearly nine years before they got married. Despite the fact that they would be husband and wife was a foregone conclusion, the proposal was elaborate and breathtaking. Guru left Neha believing he was flying off for three weeks, when he was actually setting things up and shopping for the special proposal day. After surprising Neha with a visit at her dorm, Guru let her in on the fact that they were getting away for the weekend. He even managed to sneak some special things and pack for her. Whisking her off to a scenic locale, Guru arranged for everything that was romantic and surreal, unfolding one surprise after the other. The icing on the cake was a special dress and shoes that lay waiting in the closet for Neha – something she dreamt would come true only in the movies. He started to break the news gently, telling her first that he would be moving to Boston. On the pretext of a dance, Guru was suddenly on one knee proposing and Neha was ecstatic! That was not the end to the enchanting weekend, but there was much more waiting ahead
While Guru's parents managed the engagement, Neha's family looked after all wedding preparations. The couple chose Nashville as the location for their wedding, since both graduated from Vanderbilt University. It was also more appropriate for them since it allowed them choices like the Parthenon and War Memorial. The arrangements and plans were beyond what anyone imagined possible.
Photos Courtesy:
Zamana Photo &
Videography
678-860-2921
www.zamanaphoto.com
Vendors

BANQUET HALLS
OZ Nashville
615-350-7200
www.oznashville.comThe Parthenon
615-862-8431
www.conservancyonline.comWar Memorial Auditorium
615-782-4086
www.wmarocks.com
Planning and Decor
Sage Nines Event production
615-545-9706
www.sagenines.comCatering
Raj bhog
201-395-9400
www.rajbhog.com