Niketha weds Hiren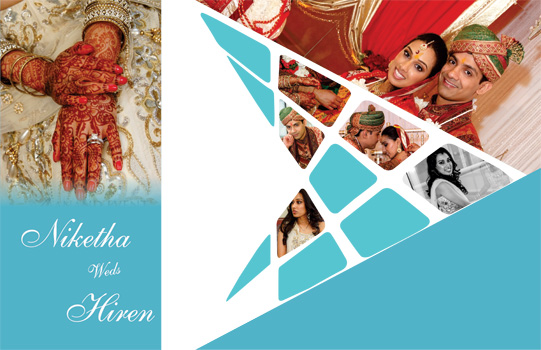 To be in love is special. When you share love, companionship, strong friendship and wonderful camaraderie, you can be sure you have found the person of your dreams. Niketha and Hiren do not just share the same profession, but also a life of promise and love.
Love blossomed when Niketha and Hiren studied together at Optometry school. A strong friendship over two years soon made way for love, and after courting one another for three years, Hiren was certain that the time was right to take things to the next level.
In what seemed the most proper way forward, Hiren made a clandestine trip to seek the permission and blessings of Niketha's parents. Thereafter, a surprise lay lurking for Niketha, who was welcomed into her living room with candles and rose petals, and a moving proposal no one could have turned down.
After the official engagement, things started moving at great speed with just one year before the wedding. Both Hiren and Niketha were completely involved at each stage. Niketha was keen on getting married in South Florida, where she was raised. The location was particularly relevant to the couple who also began their relationship in that state. Niketha flew in every month to meet vendors and check on how things were progressing.
Marriages are not just about the couple, but also about the families. Niketha's parents made many calls to ensure details were managed. Hiren's parents flew to India to arrange for invites, sweets, wedding outfits and gifts. The couple also had their siblings rallying behind them offering ample support.
Not only did the Double tree by Hilton in Deerfield Beach serve as a beautiful venue, but the location also offered the couple, their families and their guests an intimate setting and feeling of warmth, both of which were typified during the wedding events. All wedding participants had an opportunity to meet and learn more about one another, and of course, they had ample time to enjoy each event to the full extent.
The couple chose to have an afternoon wedding, and the venue was decorated in red and gold, with flowers, crystals and rose petals offering delightful accents. Highlighting the aisles were crystals and candelabras. Matching ceremony programs in red and gold were placed on every seat. The groom arrived in splendor on a magnificent white horse, and he left with his bride in a grand white limousine.
The reception was all about romance and exclusivity. Red and amber lights were the perfect choice to create a whimsical feel. Elaborate centerpieces at each of the reception tables drew everyone's attention, and decorations made using a variety of colored roses completed the picture perfectly.
Music was the highlight of the occasion, with a medley of varied genres played by the DJ. A mother-son dance, father-daughter dance and couple dance were followed by a special performance by the Patel family.
While everyone went home with special memories, this was the perfect start to Niketha and Hiren's life together. Niketha advises brides that though the planning process does not go exactly the way you imagine, let go of the smaller details and enjoy every minute. The most important aspects of the day are the bride and groom, and it is best not to lose sight of yourselves.
Photos Courtesy:
Anand Event Services
754-581-0074
www.anandphotovideo.com
Vendors

Banquet Halls
Deerfield Beach Doubletree by Hilton
954-427-7700
www.doubletreehoteldeerfieldbeach.comPHOTOGRAPHY
Anand photo and video
954-332-1560
www.anandphotovideo.com

VIDEOGRAPHY
Anand photo and video
954-332-1560
www.anandphotovideo.com

PLANNER
Rakesh Anand
954-332-1560
www.anandphotovideo.com

OFFICIANT
Pundit Bimal Maharaj
www.fhosm.com/2011/02/10/pt-bimal-maharaj-p

DECORATOR
Dalsimer atlas
9545297483
www.dalsimer.com

MEHNDI
Ibrow Studio
954-304-4958
wwww.sumaiyas.com

JEWELRY
Babylon jewelers
954 888-7704FLOWERS
Dalsimer Atlas
9545297483
www.dalsimer.com

CATERING
Woodlands Restaurant
954-749-3221
www.woodlandsus.com

DANCE LESSONS
Wedding Dance by Tango Bohemia
404-754-8272
www.tangobohemia.com

CAKE –OTHER DESSERTS
Dona Doce cakes and desserts
954- 588 6240
www.donadoce.com

TRANSPORTATION
A1 Luxury Limousine
561-202-9893
www.a1limobus.com

HONEYMOON
Sugar beach Viceroy
www.viceroyhotelsandresorts.com/sugarbeach