Neil Persad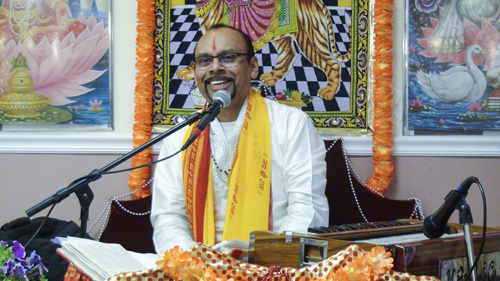 Pandit Neil Dev Persad, born in the beautiful Caribbean Island of Trinidad migrated to Toronto Canada to pursue his educational aspirations in the field of Computer Science. He then migrated to Sunrise, Florida, USA in 1988 where he has built a reputation for being one of the pioneers for Indian Culture and Religion. Pandit Neil is happily married with children who are all heavily involved with Indian Cultural activities here in North America.
Pandit Neil is a Senior Information Technology Project Manager employed at a major telecommunications firm in the USA. He has a plethora of musical recordings to his credit having been professionally trained in the Indian Classical style. Having performed as well as accompanied many World renowned singers on tours such as; Anuradha Paudwal, Anup Jalota, Hari Om Sharan, Bankim Pathak and Sudhir Narayan, makes him a very credible ambassador of Indian Culture and especially music for which he has excelled.
Pandit Neil started one of the every first Indian Bands here in North America in 1988 which is still in existence today. He was also the founder and President of the Divali Nagar US which puts on the grand Diwali celebration in South Florida each year.
Through his kind and very generous donation of his time, he was also responsible for assisting numerous religious and Indo-Centric Organizations achieve their financial goals for acquiring properties as well as constructing places of worship. Pandit Ji continues to preach the scriptures and is enlightening many children and families culturally.
He is also a spiritual leader at the Amar Jyoti Mandir in Miami and is well-known as the leader of the Florida Melody Makers International. Neil is committed to building and developing the minds of children for the upliftment of the Indian community. He says he is motivated by the community, his parents, the influence of Mahatma Gandhi and seeing God in every living being.