Nirmala Weds Rajesh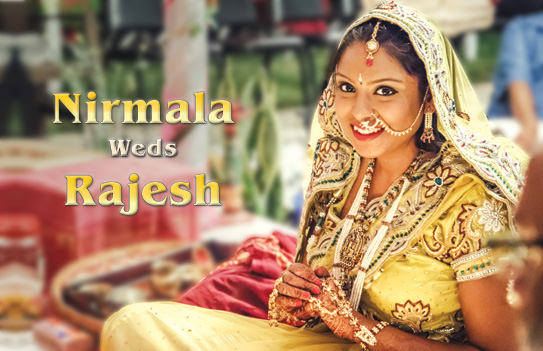 Couples who walk through each step of their relationship together are often very successful and meaningful.Considering just how Rajesh and Nirmala managed to develop such a strong relationship is an indication of how wonderful their lives will be together.
With Nirmala living in Washington, DC, and Rajesh in Miami, Florida, the couple spent six months dating and considerable time apart. The understanding shown while sharing a long distance relationship shows the maturity of their union. Rajesh was extremely attentive and carefully listened towhat Nirmala wanted in her engagement ring before buying the ring of her dreams. He proposed at Nirmala's home, and wedding preparations began almost immediately thereafter.
The couple settled on the bringing the wedding vision to fruition after a long, continual scouring for vendors, venues and themes. The wedding took place in Orlando, and the couple's friends and familyhappily came together to celebrate this wondrous occasion. The Wyndham Orlando Hotelwas the perfect venue to host the wedding and reception.
The mehndi and haldi ceremonies were held at the bride and groom's homes for the respective parties. Vibrant colors and linens, cheerful lighting, upbeat music and gorgeous Indian touches enhanced the outdoor splendor for the occasion.
The groom and his entourage arrived at the wedding venue in a limousine flanked by several cars. Once at the hotel, Rajesh rode to the wedding ceremony site grandly on horseback. Thebride's party received the groom and his friends warmly, and everyone was ushered to the ballroom. Traditional mandir styles fashioned the venue, with bright reds and burnt oranges that were highlighted in the drapes and flowers. Matching lights added to the traditional feel. Programs were handed to guests upon entry. All guests were treated to lavish sweets, while live Indian music kept them in a festive mood.
At the reception, ivory, gold and lavender reflected off crystals, candles, and lights. Large centerpieces and flowers added to the regal ambiance. Among song and dance, and several timeless moments captured on a special video,the couple managed a wedding they will live many times over.
Nirmala believes that compromise is the key given that there are two families with different thoughts involved. Smilesoutweigh the trivialities that cease to exist in retrospect. Rajesh, on the other hand, enjoyed living every moment building up to the wedding, and during it as well. I Like most brides, Nirmalahad her fair share of nightmares about failed moments. None of them, thankfully, happened. While the wedding cake did not appear on time, in the magic of the moment, no one really noticed.
Photos Courtesy:
VKM Studios Inc.
407-616-0483
www.vkmstudios.com
Vendors

Wedding / Reception Venue
Wyndham Orlando
877-999-3223
www.wyndham.comPhotography
VKM Studios Inc.
407-616-0483
www.vkmstudios.com

Videography
VKM Studios Inc.
407-616-0483
www.vkmstudios.com

Decorator
Palloo's Weddings
407-302-7966
www.palloosweddings.com

Bride Clothing
Preranas Beauty & Boutique
407-240-7353
www.preranasboutique.com

Davids Bridal
407-767-8215
www.davidsbridal.com

Hair-Makeup
Luma Bridal
407-900-8121
www.lumabridal.com

 Mehndi
Prerana's Boutique
407-240-7353
www.preranasboutique.comJewelry
Zevar Jewelers
954-742-5305
kamalgwalani@hotmail.com

Invitations
Bhagyoday Printers Inc
732-404-0096
www.bhagyodayprinters.com

Horse / Elephant
Downtown Horse and Carriage
561-723-4704
www.downtownhorseandcarriage.com

Flowers
Palloo's Weddings
407-302-7966
www.palloosweddings.com

Catering
Anand Dwarkanauth Barnlys LLC
407-888-0071
barnlys@gmail.com

Music DJ
Unique Sounds
813-857-6574

Other Entertainment
Boodoosingh Tassa Group
954-520-4488