Poonam Weds Sanjay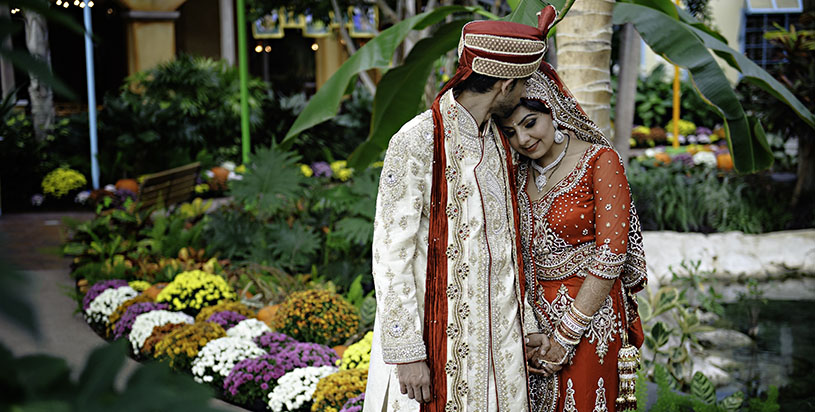 There is no doubt that love will find a way to prevail if a couple is truly meant to be together. Whether it takes you by utter surprise or blossoms slowly, you will know when you experience true love. After being friends for a long time, Sanjay and Poonam finally reached a point when they knew that being together was the only thing that mattered most in their lives.
After an elaborately planned proposal at Point Pleasant along the beach that was shrouded in secrecy, Sanjay and Poonam began preparations for the special day when their relationship would be formalized in wedded bliss. Detailed planning for the wedding celebrations also included a productive trip to India to arrange invitations, gifts and, most importantly, wedding outfits.
Poonam's dream was to have a resort-style wedding. After strongly considering Goa and Bali, the couple chose to hold the celebrations in Florida so that as many friends and family as possible would be able to attend. Poonam and Sanjay booked the Gaylord Palms Resort not just for the pool and lawn that came as a bonus, but also because of catering manager Pam Becker, whom the couple took to instantly.
Poonam had been planning her wedding since she was 15. Although Sanjay had his own preferences, he indulged Poonam for most part. Remmal from Occasions by Shangri-la brought their every wish to life and made the couple's dream take form.
Each event embodied a specific theme. An Indian street fair was recreated for the engagement, with street food, stalls and colors and drinks adding to its feel. The mehndi was "Resort Chic," and what better venue than the South Beach pool at the Gaylord. Large lounge couches, brightly colored drinks and swaying palms brought in the mood perfectly. While the sunset trickled its way into the Ballroom, the lights came into view. Bright purples, turquoise and teal highlighted the peacock theme for the evening. A bamboo centerpiece with a waterfall, flower arrangements and lights were only some of the elements that created the mood.
The wedding ceremony began with a mid-morning baraat. After some dancing, the ceremony was underway, with bridesmaids walking in two's through to the Red Lotus mandap. The flower arrangements overhead spread a divine fragrance as the couple walked in together, and soft music played harmoniously in the background.
The wedding reception took people back in time to "Old Hollywood." China, feathers and chandeliers were displayed in the Sun Ballroom, and an impressive dance floor encouraged all to celebrate. The bride and groom dressed their part too, in a flowing ball gown and tuxedo respectively. With a red carpet that allowed posing for pictures, and silhouettes in song and dance, the theme really did come to life.
For most, it is difficult to articulate the magnificence of the wedding. It really needed to be experienced to be understood. With Remmal really rising to the 'Occasion' on several counts, they got much more than they truly wanted.
Photos Courtesy:
Asaad Images
407-221-3333
www.asaadimages.com
Vendors

EVENT VENUE
Gaylord Palms Resort & Convention Center
407-586-2248
www.marriott.com/hotels/travel/mcogp-
gaylord-palms-resort-and-convention-center/PHOTOGRAPHY
Asaad Images
407-221-3333
www.asaadimages.com

VIDEOGRAPHY
A&A Video
713-772-6899
www.anavideo.com

PLANNER
Signature Weddings & Events
352-267-5345
www.signatureweddingsorlando.com

DECORATOR
Occasions by Shangrila
407-355-7700
www.occasionsbyshangrila.com

HAIR-MAKEUP
KC Makeup
917-478-9965
www.kc-makeup.comCATERING
Madras Catering & Event Production
305-504-3688
www.MadrasCatering.com

MUSIC
Volcanik Entertainment
973-951-2744
www.volcanik.com

WEDDING CAKE
Party Flavors Custom Cakes
407-578-2082
www.orlandocustomcakes.com

FAVORS
Magnafoto
855-710-3686
www.magnafoto.com

TRANSPORTATION
Angel Crespo
407-666-3932