Nobel Winner Indian American Abhijit Banerjee Meets PM Modi
Economics Nobel laureate Dr. Abhijit Banerjee met Indian Prime Minister Narendra Modi in Delhi, India. During the meeting they discussed various economic and political issues. An Indian-American professor at the Massachusetts Institute of Technology (MIT), Dr. Banerjee won the 2019 Nobel Prize in economics, jointly with Esther Duflo and Michael Kremer, for their work on "experimental approach to alleviating global poverty."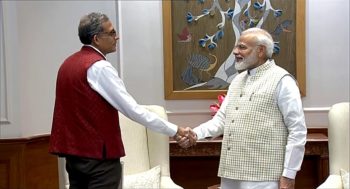 After the meeting, PM Modi tweeted on his official social media page, "Excellent meeting with Nobel Laureate Dr. Abhijit Banerjee. His passion towards human empowerment is clearly visible. We had a healthy and extensive interaction on various subjects. India is proud of his accomplishments. Wishing him the very best for his future endeavours." This is Banerjee first visit to India since he has won the prestigious award.
After meeting the Prime Minister, Dr. Banerjee issued an official statement: "It was a privilege to have this meeting with the PM. The PM was kind enough to give me quite a lot of time and to talk about his way of thinking about India, which was quite unique because one hears about policies but one rarely hears about the thinking behind it.
"He talked about the way he sees governance in particular and why the mistrust of the people on the ground colours our governance and it therefore creates structures of elite control over the governance process, not a responsive government.
"In that process, he also very nicely explained how he is trying to reform the bureaucracy to make it more responsive, to understand the ways in which people's views need to be taken into account and expose them more to the realities on the ground."
Dr. Banerjee has been a vocal critic of some of the Indian government's economic decisions, including demonetisation, the corporate tax rate cuts, and moving items to lower GST rates slabs.
Massachusetts Institute of Technology
2019 Nobel Prize in economics
Indian American
Prime Minister of India
Narendra Modi
Dr. Abhijit Banerjee