Orlando 2011 MyShadi Bridal Expo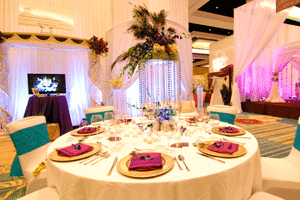 As the doors to the exhibit hall opened, eager brides waited with bated breath in anticipation of a productive afternoon of wedding planning to come. The exhibit hall sparkled with sophisticated, eye-catching mandaps and vendors artfully displaying their services, latest jewelry, and clothing designs. The MyShadi Bridal Expo held on September 18 at the Hilton Orlando in Orlando, Florida, kicked off to a great start as a varied group of attendees shared their engagement stories and vendors promoted their services. Future brides, grooms, and their families perused over 100 vendor booths during the Expo looking for decorating ideas, finalizing wedding plans, and tasting food samples.
Sponsored by Desh-Videsh Media Group, the sixth MyShadi Bridal Expo was just as successful as its predecessors. Brides in the Orlando and surrounding areas were given a chance to truly experience a unique event. For South Asian brides planning a traditional wedding in the United States, the Bridal Expo offered them the opportunity to visualize ways to incorporate classic elements into a contemporary wedding theme. One bride was thrilled to be able to do so much planning all in one place. "This has been a great experience. The [Expo] has given me so many vendor options to choose from. It is almost like a one-stop-shop," said Zainab Tarique, who hails from Ft. Myers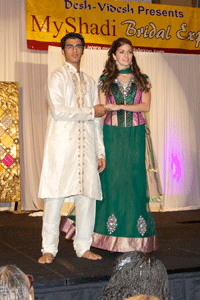 For future brides, grooms, and their respective families, the Bridal Expo was a fantastic way to peruse anything and everything one would need for a dream wedding, be it South Asian or American. Even those planning anniversary and sweet sixteen parties walked away with information about party planning. From banquet halls, event planners, and decorators, to DJs, photographer/videographers, and wedding performers, a plethora of vendors were available to attendees. There were also estheticians, jewelers, clothing boutiques, and even a limousine vendor. Caterers offered mouth-watering morsels of their finest cuisine and delicious cake and chocolate samples to give Expo attendees a flavor of possible wedding fare.
For the vendors, the Bridal Expo was the place to be to get tremendous exposure with direct access to brides and grooms. Vendors had the opportunity to meet face-to-face with potential customers and establish definite leads. Several vendors even went home with signed contracts for their services.
Dieudonne Thomas from Immaculate Events was pleased to not only meet potential clients, but also to network with like-minded colleagues. "We really enjoyed the Bridal Expo. It provided an opportunity for us to make contact with a diverse group of brides and meet other industry professionals. The next morning, we had emails from brides requesting more information and setting up consultations!"
Live demonstrations by beauticians and mendhi artists were a big hit with attendees. Getting to see makeup and mendhi applications as well as sari draping gave brides-to-be a firsthand look at designs and even some ideas for their own wedding looks.
During the Bridal Expo, Rupal Talati moved the crowd with her breathtaking singing performances. Another highlight of the afternoon were the two fashion shows that highlighted the latest trends in bridal and formal wear. Le Trend Boutique and Chandini's Couture, the fashion show sponsors, dazzled the audience as models showcased the latest in bridal saris, lengha choli suits, and formal wear for men and women.
During the entertainment segments, attendees lined up for their chance to win one of several door prizes generously donated by several vendors. The grand prize drawing, announced after the final fashion show, was a free trip to India for one lucky couple. Nicole Wilansky and Garrett Hayman, to be wed in March of 2012, were the ecstatic winners of the free honeymoon trip to India provided by Qatar Airways. Desh-Videsh wishes them and all other future married couples all the best in their new lives together.
Desh-Videsh Media Group also thanks Platinum Sponsors Hilton Orlando, Occasions by Shangri-la, TV Asia, Qatar Airways, and The Arpan Group for their support in making this Bridal Expo a tremendous success.