OTT Release of The Kashmir Files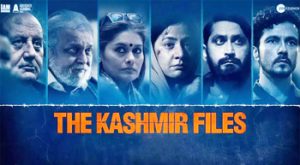 The Vivek Agnihotri directorial venture, The Kashmir Files, was not on the list of "big releases" of Bollywood, yet the small-budget film with big human content became the biggest blockbuster of tinseltown. And now, the film is making its OTT debut on the platform Zee5. The date of release is yet to be declared. However, the poster for the film with the words "World Digital Premiere" is out, and it is expected to hit the platform soon. Apart from Hindi, the film will also be available in Tamil, Telugu, and Kannada in the OTT.
The Kashmir Files is based on the oppression the Kashmiri Pandits faced in the valley back in the 1990s. Their plight was narrated in a realistic way that appealed to the cross-section of Indian society, including high praise from the honorable Indian Prime Minister Narendra Modi. The film includes Anupam Kher, Mithun Chakraborty, Pallavi Joshi, Darshan Kumar, and others in the cast. Many state governments made the film tax-free, enabling the masses to watch it.
Agnihotri has been overwhelmed by the positive response of the viewers to this film. He gratefully thanked them and expressed his hope that more people will get to know the truth about the Kashmiri Pandits. The intense and real-life content of the film became the key to its success at the box office. The small-budget film crossed 2500 million INR collections, which is a phenomenal feat in terms of business. People across India gave a standing ovation at the theaters and were filled with tears after watching the film. Now, the OTT release will afford viewers across the globe an opportunity to watch this extraordinary film.