Pavitra Wants to Date Abhinav: Stunning Reaction from Wife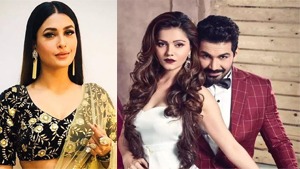 Pavitra Punia, a housemate on popular reality show Big Boss 14, is one of the strongest contestants this season who makes sure the spotlight does not deviate much from her.
The show, yet again, is not failing in keeping the controversies, arguments and conflicts going amongst its participants.
In one of the footages of the reality show, Purnia can be heard that she is interested in going on a date with another housemate of the same show, Abhinav Shukla. Shukla had entered the show as a duo with his wife Rubina Dilaik. Rubina's reaction to Pavitra's desire however, has taken quite a few by surprise.
A video clip of the happenings in the Big Boss house shows yet another contestant Jasmin Bhasin talk to Rubina when she was in the gym with her husband. Bhasin was heard asking her to take her husband away from the gym area as Pavitra was approaching and she had earlier overheard Pavitra saying she would like to date Abhinav.
Rubina stood her ground and later confronted Pavitra asking her to feel welcome to take her husband on a date and that she has absolutely no objection to it. She stated that Abhinav being an interesting and intelligent person would make a great companion for a date as they could have a very balanced discussion.
Pavitra however later said that had Abhinav not been married, she would have dated him.
Pavitra had been coming to everyone's notice earlier because of the closeness she was beginning to share with actor Eijaz Khan. That soon fizzled out after the couple mutually decided that it was not working for either of them.
Eijaz Khan
Pavitra Punia
Big Boss 14
Abhinav Shukla
Rubina Dilaik
Big Boss House
Jasmin Bhasin